BBC Welsh music royalty row with EOS goes to tribunal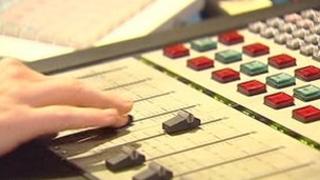 Welsh language musicians and the BBC have argued over the level of royalty payments at a copyright tribunal.
Radio Cymru cut its hours and replaced pop with hymns and classical music after losing the right to play more than 30,000 songs from New Year's Day.
Musicians' group EOS allowed the BBC a temporary reprieve in February but want the interim payments to almost triple.
The hearing will determine the interim licence fee payable by the BBC to EOS until the case is fully resolved.
EOS represents around 300 musicians who broke away from the Performing Right Society (PRS) in a row over payments, claiming Welsh language musicians were being paid substantially less than their English language counterparts.
They withdrew permission from the BBC to play their music on New Year's Day, but six weeks later made an interim agreement allowing Radio Cymru to resume its normal schedule.
'Generous amount'
The BBC told the tribunal on Monday it was currently paying EOS an interim licence of £120,000 per year to broadcast songs controlled by the collection agency, or £10,000 per month.
Barrister Lindsay Lane, representing the BBC, said it was "very clearly a generous amount" and more than EOS members had been receiving under the PRS agreement.
She added that the BBC believed a substantive licence to access the EOS repertoire should be "not more than £100,000".
Ms Lane said the BBC had been told that EOS wanted the interim payment increased to £325,000 per year, and the final settlement to be £1.5m per year.
Tom Weisselberg, the barrister representing EOS, confirmed the group wanted the interim payment increased to £325,000 per year.
A fifth of the total - about £70,000 - would cover the costs of attending the tribunal and of administering the collection agency.
He said the £50,000 already given by the BBC wasn't enough.
"It's no exaggeration to say that the Welsh language music industry is in crisis," said Mr Weisselberg.
He said EOS members produce a niche product and deserve to be paid a premium by the BBC for use of that product.
The hearing ended on Monday afternoon with a ruling on an interim licence fee expected in the next few days.