Rowecord Engineering, Newport: Union hopes steel jobs can be saved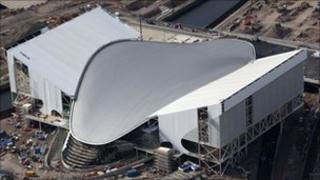 Union officials say they hope part of Wales' biggest steel contractor can be saved after it announced it was going into administration.
Newport-based Rowecord Engineering says its 400 staff could be made redundant.
The roof for the Olympics aquatic centre was among its many high-profile projects.
Unite officer Brian Godsell said workers were "devastated" and surprised Rowecord had turned down an offer of help from the Welsh government.
In a statement on Friday the company which was founded in 1970, said it had "exhausted every option to sustain the business in future" and would go into administration on Monday.
Meanwhile, the Welsh government said they had offered assistance to the maximum level allowable within state aid rules, but the company had "decided that it is in the best interests of its employees and partners to file for administration when a buyer for a business may be identified".
'Quite astonishing'
However, Mr Godsell, the regional co-ordinating officer for Unite, told BBC Radio Wales he was surprised that the state aid option had not been explored further by Rowecord,
"It seems to be quite astonishing that a business might put themselves in that position," he said.
"One of the interventions we would be looking at would be an intervention from the Welsh government to assist in any way they can and if the company has already turned that down it would seem to be quite surprising.
"Most companies would welcome that sort of approach."
Union officers who represent a large number of workers at Rowecord met on Saturday to discuss the situation.
Lost income
Mr Godsell said he hoped parts of the company could still be saved.
"It's a large company with different arms so we will be looking at all that."
"There's been an awareness there have been problems but they [the workers] are absolutely devastated that it's gone into receivership," he said.
"We don't really know the detail, we will be looking into that next week."
'Alternative strategy'
But Mr Godsell also told Radio Wales: "Their employees are waking up this morning to a period of uncertainty and significant lost income and I would imagine they would have preferred the company to put themselves in a position where they could continue in business.
"It looks as if there's an alternative strategy."
In a statement on Friday Rowecord managing director Andrew Hoppe said: "It is with great regret that we have had to come to the decision to place the business in the hands of the administrators.
"We will be looking to mitigate how this development may impact on the workforce."
The Welsh government called it "very disappointing news".
A spokesperson said they would ensure that as much support as possible is made available to Rowecord employees.