Prestatyn fire deaths trial: Jury sent home for weekend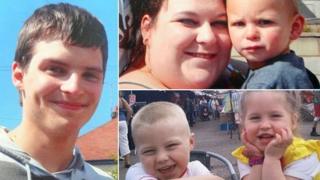 A jury has been sent home for the weekend in the case of a woman accused of murdering five members of a family by setting fire to their home.
The judge at Mold Crown Court earlier told jurors them to "dispassionately" consider the case of Melanie Smith, 43, who denies murder and making threats to burn another woman's home.
Two adults and three children died after the fire in Prestatyn.
The jury went out on Friday morning and will return on Monday.
Lee-Anna Shiers, 20, her nephew Bailey, four, niece Skye, two, partner Liam Timbrell, 23, and 15-month-old son Charlie all died last October.
The jury has heard accusations during the three-week trial that Ms Smith, who lived in the flat below the family, started the fire in a row over a pushchair being left in the shared hallway.
The fire spread upstairs to Ms Shiers's flat, trapping the family and killing Ms Shiers, her niece and nephew outright.
Mr Timbrell and Charlie died later in hospital.
At the end of the trial, Mr Justice John Griffith Williams told the jury to put aside the considerable sympathy and pity they would feel for the family's incalculable loss.