Burial grounds are resource for living, charity Caring for God's Acre says
23 April 2013

From the section

Wales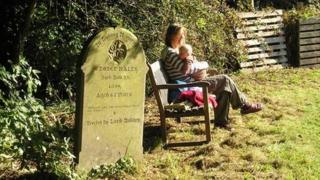 Burial grounds should be seen as a "resource and not a burden" for the living, a charity says.
Four sites will be chosen in Wales by Caring for God's Acre to be used as examples of how their conservation can help society.
They will be selected at a conference at the National Botanic Garden of Wales in Carmarthenshire later.
Ideas will be shared on preserving memorial stones, trees, plants and wildlife as well as churchyard records.
Delegates can also learn more about genealogy and how to raise funds and recruit volunteers.
More than 120 organisations have signed up for a day of talks and workshops to encourage burial ground conservation.
They include church, archaeology, heritage, wildlife and tourism bodies.
The day will include training in rural skills such as walling and surveying.
Conference organiser Andrea Gilpin said: "People find that when they look after their burial sites the wider community gets involved.
"Local schools will use them for outdoor learning, people come to do surveys of them - we should see them as resource not a burden.
"Potentially they are a massive resource for people to learn from. The conference is about trying to realise the potential of all these sites."
The charity is backed by Heritage Lottery Fund to run conferences on how to best preserve the estimated 20,000 burial sites in England and Wales.
Organisations attending the event include the Bumblebee Conservation Trust, Churches Tourism Network Wales, Dyfed Archaeological Trust and the Wildlife Trust of South and West Wales.