Gleision rethink for national mining memorial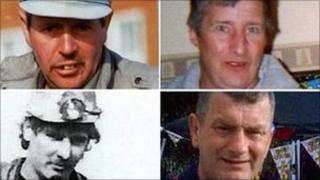 Words to remember the four men killed in the Gleision colliery tragedy will be included on a mining memorial after fears they would be excluded.
Plans for the national mining memorial were criticised for not including the Swansea Valley incident as it is not officially classed as a disaster.
But the backlash has prompted the inclusion of a line hoping the miners killed at Gleision will be the last.
The memorial is due to be unveiled in Senghenydd in October.
It will commemorate some 200 Welsh mining disasters with 156 plaques set into the floor, one for each pit affected by an incident where five or more people died.
But there was outrage earlier this month when it emerged that it would not include a plaque in memory of the four men killed when the Gleision pit in flooded in 2011.
Charles Breslin, Philip Hill, Garry Jenkins and David Powell were killed while two other miners, including Mr Powell's son, escaped and helped raise the alarm.
Aber Valley Heritage Group, which has organised the memorial, originally said that although Gleision would not be included specifically, a 157th plaque would mark all other Welsh mining tragedies.
But after receiving criticism of the decision, including letters from some assembly members, it says it has decided to include words to remember Gleision.
"These will be on the plaque for all the other Welsh mining tragedies and are likely to include words to the effect of 'Hopefully the four miners killed at Gleision will be the last'," said Jack Humphreys, chair of the group, which is still raising money to cover the cost of the memorial.
"We will consult with the miners' families before we make the final decision."
Disaster anniversary
He added that he was "a bit disappointed" with the criticism the group had received.
Mr Humphreys said that since mining began in Wales there had been nearly 700 mining incidents which included the deaths of up to four people.
He added that the group did not have enough money or space on the memorial to commemorate them all.
The group based its decision on the 1954 Mines and Quarries Act which classes five deaths or more as a disaster.
The memorial will be in two parts - a national mining memorial and a memorial to the more than 500 people killed in total in two incidents, in 1901 and 1913, at Universal Colliery in Senghenydd.
It will be unveiled close to the site of the colliery on 14 October, the 100th anniversary of the 1913 Senghenydd disaster in which 439 miners were killed - the worst mining disaster in Britain.