Dyfed-Powys PCC: People power 'fuels anti-crime drive'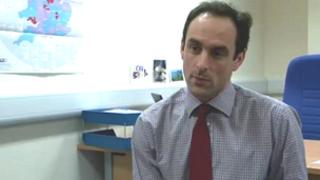 Anti-social behaviour, drugs and violence top the concerns of people in Wales' mostly rural biggest police force area, its police and crime commissioner has revealed.
Christopher Salmon says such worries are the driving force behind his priorities for Dyfed-Powys Police.
Mr Salmon says he is targeting crime that "makes lives miserable".
He also aims to reduce the budget by 10%, including by cutting sickness, absenteeism and bureaucracy.
"The whole purpose of everything I'm doing is about putting people first," Mr Salmon said. "These are their priorities, this is their plan.
"Dyfed-Powys Police is giving people a sense of ownership of the police."
Drugs charity Sands Cymru said it had recently seen evidence of a community playing its role.
In Ystradgynlais, Powys, about 100 people held a meeting to discuss the problem of the drug mephedrone - widely known as meow meow - in the town.
"It says a lot about the community feel," said Sands service manager Jamie Harris. "They weren't there wanting to string anyone up.
"There were people there who were victims of crime and the community wants to see people who using drugs to have a better life and contribute to society. It was fascinating to see."
Mr Salmon said he had spoken to residents across the force area. Concerns such as anti-social behaviour and drugs topped the list, and the more rural communities said they felt isolated and vulnerable to burglaries, travelling gangs and fly-tipping.
Mr Salmon said: "The key thing is about prevention. It's about involving everybody in policing our community."
Financial challenges
He added: "I've focussed on the type of crime that doesn't make headlines but still makes peoples' lives miserable."
One of the other challenges Mr Salmon faces is dealing with policing large rural areas, and dismissing assumptions that nothing happens there.
He said a rural policing strategy was needed within financial challenges and suggested special constables could be deployed to rural areas while neighbourhood groups would play an important role.
Mr Salmon has also outlined plans to reduce the projected budget of 2017/18 from £108.7m to £99.75m by reducing sickness and absenteeism, cutting bureaucracy and seeking value for money.
He added that frontline services would be protected, while the end of public sector pay freeze next year has also been factored in.
NFU Cymru president Ed Bailey said: "There seems to be a need for a police increase in rural areas and a visible one as well.
"There is a feeling of isolation because we live in isolated parts. We have increased reports of thefts on farms of equipment and livestock thefts.
"Within a town, they can have an awful lot of CCTV cameras but that comes less available the further out of the country you go."
Dyfed-Powys Police's new chief constable Simon Prince said the help of the community would determine the success of Mr Salmon's five-year plan.
"We cannot secure safer communities on our own and I will also be engaging with a range of partners to increase our capability to protect everyone in our force area," he said.
"These are challenging but exciting times for our force, and I will be working closely with the police and crime commissioner in order to provide a service which is in the best interests of all our communities."