Welsh building trade turning the corner, says FMB Cymru
22 April 2013

From the section

Wales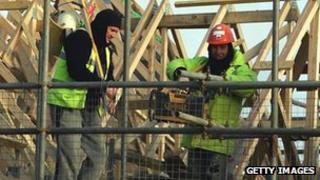 Building firms in Wales have a more positive outlook compared with elsewhere in UK, according to a survey.
The Federation of Master Builders Cymru (FMB) says a Welsh government policy has led to the Welsh construction industry helping to buck the UK trend.
The policy says the benefits of hiring local companies should be factored in to any public sector tendering process.
The FMB urged ministers to follow through on a promise of legislation if local authorities ignore this guidance.
The FMB's UK-wide survey of confidence among builders for the first quarter of 2013 shows that Wales is leading the recovery in the sector, with a "positive balance" of +1% among its members when they consider workload, expected workload and inquiries in the immediate future.
This compares to negatives across the rest of the UK. In Scotland it was -20% and in England -16%, although it was only -1% in Northern Ireland.
The FMB said there was a "substantial improvement" in Wales, compared to a -8% balance in the last three months of 2012.
However, figures obtained by BBC Wales show that only two of Wales' 22 local authorities are actively implementing the policy, leading to a warning from the FMB.
"The point of this survey is that it's qualitative not quantitative," said Efan Glyn.
He said that when the policy was announced by Finance Minister Jane Hutt in December, it promoted confidence, leading builders to take on more staff and borrow in anticipation of more work to come.
'No option'
"However if only two of the local authorities are prepared to adhere to the policy, then Mrs Hutt needs to consider whether it's necessary to legislate to prevent firms overstretching themselves on the back of broken promises."
Steve Thomas, chief executive of the Welsh Local Government Association, warned against tying council hands.
He said: "We can't just give out contracts to local firms willy-nilly. They have to be part of a process that delivers quality and value for money."
Mrs Hutt told the BBC's Wales Report that councils needed to "improve their game".
"There is no option about this," she said. "I expect them to be implemented by local authorities, the NHS and all those in the public sector.
"In the future we will consider legislation, as I said clearly in my statement in December, if they do not adopt our procurement policy."
The policy statement tells councils and other public bodies that local suppliers must be able to compete for contracts, although it does not say they should be prioritised.
But Bridgend-based builder Doug McKirdy believed that the procurement row was something of a red herring.
He felt the poor state of the overall economy was helping to shift some of the scarce cash in the direction of independent traders.
"The Welsh government talk about moving a few pounds here, and tweaking a couple of thousand there, but at the end of the day, very little of it finds its way down to the sole traders."
"There's still hardly any trickle-down from the national companies. What's really made a difference for us is families deciding not to move, and instead improving their current homes.
"If you can get accredited on industry websites, and trade via good word of mouth, then now is as good a time as any to be a trustworthy local builder, as a good name is something which any amount of government initiatives can't buy."