ONS: Unemployment in Wales falls by 3,000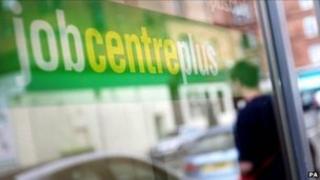 Unemployment in Wales has fallen to 120,000, latest figures from the Office of National Statistics show.
The monthly update shows 8.2% of the working population is out of work, which means between December and February the unemployment rate was down by 3,000 on the previous three months.
The number is also down 11,000 compared with the same period in 2012.
Welsh Secretary David Jones said the news was a "welcome step-change" but the economic recovery remained fragile.
"I am particularly pleased to see that the unemployment rates in Wales are falling and that, over the year, the employment rate has increased," he added.
"However, while these figures are a welcome step-change, we must not be complacent.
"Only last week, we saw the disappointing closure of the Welsh Country Foods plant on Anglesey with the loss of 350 jobs.
"This simply reinforces the need for constant vigilance and co-ordinated action across governments to make sure we maximise opportunities to maintain and create employment in Wales."
The number of people claiming jobseekers allowance in Wales was 80,800 in March, which is 2,000 fewer than in February and a fall of 2,800 over the previous 12 months.
Labour's Shadow Welsh Secretary Owen Smith said the "slight fall" in unemployment in Wales was "to be welcomed" but the broader picture was worrying.
"The news that 70,000 more people across the UK are out of work reiterates the message we heard from the IMF (International Monetary Fund) yesterday that the Tory-led government's programme of austerity is hurting but not working," he said.
"Wages are stagnating, families are facing a soaring cost of living and unemployment is set to increase further over the next 12 months.
"The government's policies are making things worse, not better and we urgently need a change of priorities," Mr Smith added.
Liberal Democrat AM Eluned Parrott said she was "delighted" by the Welsh unemployment figures, but there was "still a long way to go".
"The Welsh Labour government needs to be doing more to support people, especially young people, who are looking for jobs to ensure that they are not unemployed for long periods of time, which can be incredibly demoralising."
Economy Minister Edwina Hart said the figures were more positive for Wales than for the UK as a whole.
"They show some positive signs, particularly given the disappointing figures of recent months but the economic situation in Wales remains challenging due to the weak global economy and spending cuts imposed by the UK Government," she said.
Mrs Hart said the Welsh government was "continuing to do all we can within the powers devolved to us" to support the economy in Wales.
She pointed to more than 5,000 job opportunities being created and 4,000 jobs filled through the Jobs Growth Wales programme, since April last year.
Plaid Cymru said there were nearly 50,000 more people unemployed in Wales than before the recession began, and another 50,000 more people who were under-employed.
Alun Ffred Jones AM said under-employment was "holding back" the economy and UK and Welsh ministers were missing "substantial opportunities" to improve the situation.
"Many are working part-time jobs or in roles where they are over-qualified and should be earning and contributing more," he said.
UK unemployment has risen by 70,000 to 2.56m, or 7.6% of working people, but is 71,000 lower than a year ago.