Tsunami survivor Tomas Alvarez-Belon on Wales lifeguard training
18 April 2013

From the section

Wales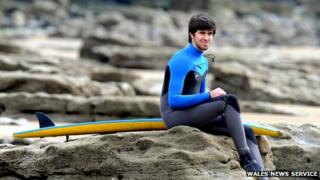 A teenager whose family survived the 2004 tsunami in Thailand and had their story told in Hollywood film The Impossible, is training to be a lifeguard in Wales.
Tomas Alvarez-Belon was eight when his family were separated for two days after the wave hit.
Now 17, he is studying at Atlantic College in Llantwit Major.
Tomas, from Madrid in Spain, chose the college, partly because of its lifeguard training programme.
Atlantic College - a residential sixth form college which brings together students from around the world - is where the rigid inflatable boat was invented before the patent was sold to the RNLI.
The teenager could have chosen to study anywhere in the world, but says he chose to come to south Wales.
"The lifeguard programme has played a role in my coming here," he said.
"My top two choices were UWC Atlantic and Red Cross Nordic [Norway]. It is because they had this programme."
Tomas' desire to help others comes after his family's experience on Boxing Day 2004.
Tomas, his father Quique, mother Maria and brothers Simon, five, and Lucas 10, were staying at the Orchid Resort Hotel in the Khao Lak region of Thailand.
Tomas, his father and Simon were in the pool playing with a ball when the tsunami hit.
Mrs Alvarez-Belon was watching as Lucas got out of the water to fetch the ball when they heard the roar of the 30ft (9.1 metres) wave.
When she resurfaced, Mrs Alvarez-Belon and Lucas took refuge up a tree until being taken to hospital by a stranger.
Tomas and Simon were left clinging to a tree for hours until they heard their father calling them.
It was two days before the entire family was reunited.
Tomas said: "It was very hard. It was a time period where you knew that some of your family members were dead."
Mrs Alvarez-Belon spent more than a year being treated in hospitals in Singapore and Spain following a life-saving operation to repair injuries to her thigh and chest.
The story was told in last year's film The Impossible which starred Ewan McGregor and Naomi Watts and took more than $52m (£40m) at the box office.
Watts was also nominated for an Academy Award and Golden Globe for her performance.
Tomas said it was not just a story about his family but about all the families that had been affected.
"The script was co-written by my mother. It stays true to what happened and it tells the story of the people who didn't make it," he said.
"We were lucky enough to survive and there were nearly 300,000 people that died.
Tomas is now a first-year student at UWC Atlantic College and studying towards the International Baccalaureate alongside the co-curricular activity which sees him training to save lives.
One day he would like to go into politics and international relations but for the time being he is content in Wales.
"I chose Wales for several reasons," he said. "I think economically it's one of the best UWC. For me it was very personal and it did have this lifeguard programme.
"It's the place I am happiest at the moment."
"It's been a long time. As a family it's something we have come to accept it and there's nothing we can do about it. We were extremely lucky."