Baroness Thatcher: Lord Elis-Thomas will not pay tribute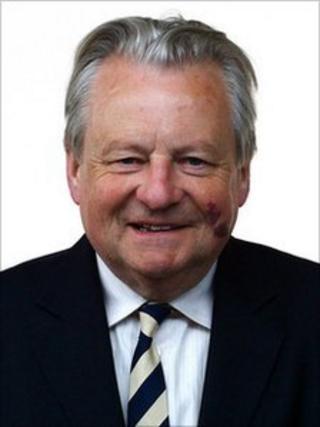 Former Plaid Cymru leader Lord Elis-Thomas will not take part in a Welsh assembly tribute to Baroness Thatcher because he "disagreed with everything she did".
The peer said she widened the gap between rich and poor and the effects were still being felt.
But Conservative MEP Kay Swinburne told the BBC's Sunday Politics Wales programme she will be attending the funeral on Wednesday.
Lady Thatcher died last Monday aged 87.
Her ceremonial funeral will be held at St Paul's Cathedral in central London.
Lord Elis-Thomas, a former assembly presiding officer, said: "I will not be in the National Assembly this week if there is a celebration of her activity.
"I probably disagreed with everything that she did. Both in terms of Wales and the Welsh economy, the extremes of wealth and poverty that developed under the tenure of her government which we are still reaping now.
"I supported the miners when I was leader of Plaid Cymru. My grandfather was working in the anthracite coalfield and in relation to his memory I will not be taking part in any obituaries to Margaret Thatcher."
Ms Swinburne said Lady Thatcher turned the country around through restructuring and economic reforms.
She said: "But she was in very difficult times and we have to bear in mind that at times of stress you need a very strong leader - she delivered for us."
The MEP said she understood critics' position over the miners.
She said her grandfather was a miner and trade unionist but the former prime minster, she said, took the right action.
Ms Swinburne said: "The economic arguments that were being put and the state of the country was such that we had to make reforms possible. She had the strength of character to do it and she sowed the seeds for what we have as an entrepreneurial country right now.
"She took on the trade unions, she also had a strategy for actually changing the economy for one that wasn't industrial but was built on high tech investments."
But Lord Elis-Thomas said: "She took on the people that didn't vote for her, that was a disaster in my view."
Former Labour leader Lord Kinnock was invited to the funeral, but his office said he will not be present as he had a previous commitment to attend the funeral of a former local councillor in his old south Wales constituency.
AMs will pay tribute to Baroness Thatcher on Tuesday.