Denbighshire floods: Victims to receive £140k lottery support
13 April 2013

From the section

Wales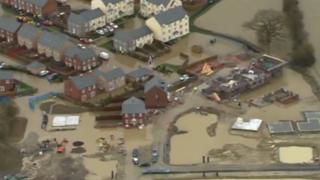 Victims of the Denbighshire floods are set to benefit from more than £140,000 of lottery funds to help them settle back into their homes.
Denbighshire Voluntary Services Council (DVSC) has received a Big Lottery Fund grant which will help people in the 420 affected homes.
Ruthin and St Asaph were inundated on the same day when two rivers burst their banks last November.
Emotional support and counselling will be among the services on offer.
Following days of heavy rain the Glasdir estate in Ruthin was flooded by the River Clwyd last November.
On the same day, hundreds of homes in nearby St Asaph were flooded when the River Elwy burst its banks.
Insurance cover
One woman, 91-year-old Margaret Hughes, was later found dead in her flooded home.
Hundreds of homes had to be evacuated with many people being moved into temporary accommodation while their properties dried out.
Many did not have home insurance and some families are still struggling to get back on their feet again.
DVSC chief executive officer John Watkin said the funding will make a positive difference.
"This support will enable us to provide a range of services consisting of property repairs, welfare advice, financial advice and guidance and information about how to access donations and grants," he said.
"We will also be able to offer counselling and befriending services.
"This will provide local residents affected with a range of much-needed services to help them re-settle into their homes and to re-engage with their local community."
Five partner organisations will provide the support. Emotional support and counselling will be given by Vale of Clwyd Mind and Age Cymru, practical maintenance by Care and Repair, and advice and support by Citizens Advice Bureau and the Benefit Advice Shop.
A total of 14 projects throughout Wales share in the £3,780,570 awarded through the Big Lottery Fund's People and Places programme.
In Powys, the 1st Clives Own Scout Group in Welshpool will get nearly £500,000 to demolish their dilapidated hut and build a brand new facility for the wider community.
Another £500,000 will be given to the Aberconwy Mind to set up a community cafe, arts and craft space and small business units to provide work and volunteering opportunities for people with mental health problems.
In Caerphilly, nearly £400,000 will be spent rebuilding Tir y Berth village hall.
And in Carmarthenshire, the LINKS workshop will spend their award of almost £194,000 on a support service for serving and ex-service personnel and their families.
Sessions on anger management and confidence building and retraining courses for veterans will be offered by the scheme.