Community radio funding boost to Polish broadcasts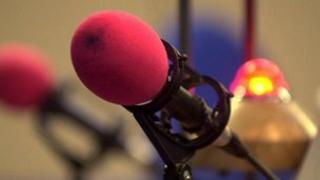 A Welsh language radio station launching this summer has won Welsh government funding to broadcast in languages such as Polish.
Radio Beca will broadcast across Ceredigion, Carmarthenshire and north Pembrokeshire.
Director Euros Lewis said the station would be using the Welsh language "to reach out and be inclusive".
Its grant of £10,000 is one of several totalling more than £100,000 for community radio stations across Wales.
Mr Lewis said: "We are half a year away from beginning to broadcast, but we have reached the point when we are ready to give people across the counties of west Wales the opportunity to own their station, in more ways than one."
"It will be a co-operative station, financially and socially, and there will be a group of people who are interested in the project leading the discussion."
Mr Lewis said various groups were welcome to contribute to the radio station including "families, individuals, chapels, rugby clubs, Merched y Wawr and young farmers".
"What we are aiming to do is create a way for the counties in the west to develop ways of communicating - community chatting to community."
Most of the output on Radio Beca will be in Welsh, but there will be an opportunity for other languages, including Polish.
"It's not the aim to create a Welsh enclave," said Mr Lewis.
Radio Beca is one of nine community stations across Wales to win grants in this year's awards from the Welsh government's Community Radio Fund.
Announcing the grants, Culture Minister John Griffiths said: "Community radio provides a key service for local residents.
"In addition to reflecting the issues affecting people and their communities local radio stations also contribute towards improving the lives of their listeners through a variety of initiatives such as holding local events, training initiatives, working with schools/universities and fund raising for local charities.
"I'm delighted to announce these grants and congratulate the stations on the important role they play within their communities."