Local footballers warned on Twitter and Facebook abuse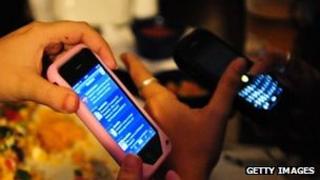 Grassroots footballers and clubs who use websites and social media to send abusive messages to opponents are being warned they face disciplinary action.
The South Wales Football Association (SWFA) has told clubs that offensive comments will be treated as misconduct.
It follows incidents this season involving Facebook and Twitter.
The SWFA, with 500 clubs under its umbrella, said it was increasingly concerned about the abuse.
Mark Adams, the SWFA official responsible for discipline, said: "We've had a couple of cases this year where we've had complaints from individuals about comments made about them on Facebook or Twitter.
"We've taken action against those who put comments on.
"There was a Facebook page in the name of a club so we held the club responsible for that and there were comments on Twitter by individuals known to us as South Wales FA teams or club officials.
"I felt it was important to do a reminder that all clubs should tell players to be careful what they're saying on Twitter."
He said the warning message appeared to have got through as there had been no reported incidents since.
The message to clubs said: "The association is becoming increasingly concerned about the use of insulting abusive and offensive comments made on websites and social media networking sites such as Facebook and Twitter.
"Will all please note that comments in the names of clubs, officials and players that are considered such will be dealt with as misconduct and the perpetrators liable to disciplinary charges."
Mr Adams added that he did not want to spoil people's fun and there was a distinction between banter and being offensive.
Those on the receiving end of abuse include former England cricketer Darren Gough and fellow former footballer turned pundit Stan Collymore.
Fined £500
It certainly is not the first time footballers have run into trouble for their comments on social media.
Sunderland footballer James McClean closed his Twitter account recently after a row over a tweet in which he named an Irish rebel anthem as his favourite song.
But there are also issues in local football with many non-professional clubs and players having their own website, Facebook and Twitter pages.
Some clubs in Wales say they were aware of other teams having problems with social media but none admitted to having to discipline players themselves.
John Batten, secretary of Treforest FC in Pontypridd, said: "I know that there have been problems [elsewhere].
"I've instructed all our people that if they go on Facebook, they don't put any derogatory remarks about anything.
"We haven't had any trouble but we've deliberately not had an open website with a guest book, but that's not to say you can't have comments being made on Facebook and Twitter."
In Cardiff, AFC Butetown secretary Robert Bradley said he was not a fan of social media or communicating through websites.
"Most young people are on Facebook and you've got to be careful what you put on there.
"Personally, I would rather speak to somebody directly."
In November Port Talbot Town midfielder Daniel Thomas was fined £500 and suspended for one match after being arrested over an abusive Twitter message about Olympic diver Tom Daley.