Margaret Thatcher funeral: Lord Kinnock to miss service
11 April 2013

From the section

Wales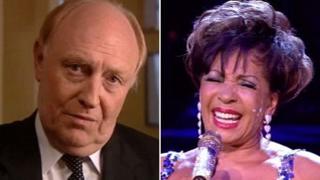 Former Labour leader Neil Kinnock will not attend the funeral of Baroness Thatcher next week, but Dame Shirley Bassey will be among Welsh mourners.
Lord Kinnock, who led the opposition during much of Lady Thatcher's premiership, will instead be attending a former local councillor's funeral in his native Wales.
More than 2,000 invitations are being sent out for the funeral.
It will take place at St Paul's Cathedral on Wednesday.
The Welsh government confirmed that First Minister Carwyn Jones will be there.
Lord Kinnock's office said he had already accepted an invitation to the funeral of former Labour councillor Olga Griffiths.
A spokeswoman said: "He will not be attending because a councillor in his old constituency died a few days before Lady Thatcher.
"He promised he would go to the funeral. He will be in Wales."
Downing Street released the names of some invitees to Lady Thatcher's funeral, although formal invitations are still in the process of being issued.
Cardiff-born singer Dame Shirley Bassey is among those who it has been confirmed will be attending the service.
'Enormously saddened'
She said: "I was enormously saddened to learn of the passing of Baroness Thatcher, and I am most honoured to be invited to her attend her funeral, to pay my deepest respects.
"She was a truly inspirational woman who always showed me enormous warmth and kindness, and to me the greatest prime minister since Winston Churchill."
A Welsh government spokesman said: "The First Minister of Wales, Carwyn Jones, has been invited.
"He is awaiting the formal invitation but he will be attending."
The Ministry of Defence says 700 armed forces personnel will be involved in the funeral.
They include members of the Welsh Guards, which suffered some of the heaviest losses during the Falklands War.
Outside St Paul's Cathedral there will be a Guard of Honour for the arrival of the coffin made up of members of the 1st Battalion Welsh Guards and the Welsh Guards Band.
Members of the Welsh Guards will also be among service personnel acting as bearers.