Patrols tackle deliberate grass fires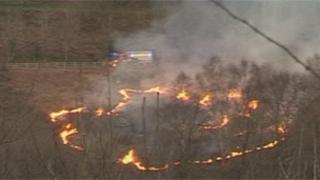 Police and the fire service are carrying out high visibility patrols in areas experiencing a large number of grass fires.
South Wales firefighters dealt with a large grass fire in Rhondda over the weekend along with other small fires.
There were about 15 grass fires reported in the Swansea area on Saturday.
Mid and West Wales Fire and Rescue is calling on people to alert police if they see anyone acting suspiciously.
The service's arson reduction team in partnership with Dyfed-Powys and South Wales Police is carrying out patrols across the region.
South Wales Fire and Rescue Service is taking part in Operation Wildfire 2013, a joint campaign with other emergency services which was launched at the Easter school holidays to try to cut the number of deliberate grass fires.
A large area of scrubland above Porth Park burned on Saturday, much to the concern of Rhondda residents who say it has become an annual occurrence.
South Wales fire crews also dealt with a deliberate grass fire at Tonyrefail Comprehensive School.
On Friday, three fire crews tackled a 200-hectare (500 acre) grass blaze at Garnswllt, near Ammanford.
Across Wales, nearly 200 grass fires have been tackled since March, with many started deliberately.