Facebook misuse: Two Wales police workers quit in 2012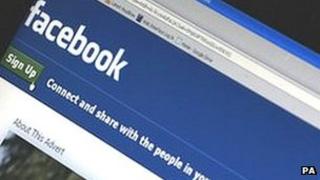 Two police employees in Wales resigned in 2012 for misuse of Facebook, the BBC has learned.
A Dyfed-Powys Police officer resigned over inappropriate comments, a Freedom of Information (FoI) request has shown.
A North Wales Police staff member quit over off-duty Facebook use which led to unauthorised access of a work computer.
Four South Wales Police officers had written warnings and two received "management advice" over social media. Gwent Police had no recorded cases.
The figures were obtained in an FoI request by BBC Wales' Welsh-language news website, Newyddion Ar-lein.
A Dyfed-Powys Police spokesperson said that "officers and staff are regularly reminded of the need to adopt a responsible and cautious approach in relation to social media, and are made aware that any improper use may result in disciplinary action being taken".
The North Wales Police staff member resigned for "causing a computer to perform a function to secure unauthorised access to a program/data contrary to Section 1 of the Computer Misuse Act 1990".
'Inappropriate content'
It is not known if this refers to the resignation reported last month of a staff member who was prosecuted for unauthorised access and disclosure of police information.
The force said that its online social networking policy was being updated "to take into account a number of recent social media cases nationally and lessons learned elsewhere as we recognise social media is a fast-changing environment".
South Wales Police recorded one case in which officers received a written warning having made comments on Facebook which were considered inappropriate.
The force said that "all our officers and staff have a responsibility to use social media with due care and consideration and avoid posting any inappropriate content.
"There is a force policy in place containing clear guidelines in relation to the personal use of social networking sites and the consequences of misusing them."