Wales measles: Parents 'overcome MMR mistrust legacy'
6 April 2013

From the section

Wales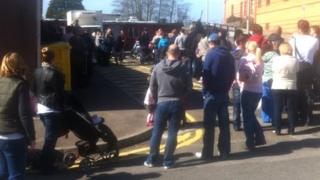 Public health officials say a big increase in the demand for MMR vaccinations in south Wales suggests parents' "legacy of mistrust" over the jab is being overcome.
Take-up for the MMR vaccine in the area dropped significantly in the late 1990s when research - which has since been discredited - raised concerns over the jab.
Saturday has seen hundreds of people queueing at four local hospitals offering drop-in clinics for children and young adults.
The outbreak has affected nearly 600 people across south, west and mid Wales.
Families began queueing at the drop-in MMR clinic at Swansea's Morriston Hospital an hour before it opened on Saturday morning.
One mother, Kelly Byrne, said she arrived at around 09:50 BST so that her two-and-a-half-year-old daughter Grace could have a second booster jab.
She said: "It was just really busy, there was a huge queue already.
"It's a relief now she's had that [vaccination], so hopefully she will be safe against the measles.
"She's in a creche so she's in contact with a quite a lot of children. It was a concern."
Another in the queue with her three-year-old daughter said: "Personally, I don't know anyone with measles, but I know people who know people [with measles] so it's really worrying.
'Really scared'
"I've got a nine-week old as well so I was really scared that she might get measles and pass something on to him."
Before the introduction of the MMR vaccination in 1988, some half a million children in the UK caught measles each year and about 100 died from it.
But concerns over its safety were raised a decade later when surgeon Andrew Wakefield published a paper in The Lancet - which the publication later fully retracted - suggesting MMR was linked with an increased risk of autism.
That paper, and the subsequent media coverage, led to immunisation rates plummeting. From a high of 92% across the UK in 1995-6, it fell to an average of 80% in 2003-4.
The latest figures for Wales, which cover October to December 2012, show that uptake of the first dose of MMR vaccine in two-year-old children was 94% and ranged by local authority from 87% to 97%.
Nine local authority areas and one health board achieved the target of 95% uptake.
Uptake of the second MMR dose by five years of age increased to 90%, from 89% in the previous quarter.
Some GP surgeries in the Swansea area have responded to the epidemic by offering extra clinics for the MMR vaccine.
Speaking ahead of the weekend drop-in clinics at four south Wales hospitals, Dr Roland Salmon, director of Public Health Wales' Communicable Disease Surveillance Centre, said initial attempts to increase MMR take-up in the city via vaccination sessions in schools had met with a poor response.
He said: "We think at that point we were still suffering from some of the legacy of the mistrust.
"The interest that has been shown in the media and the public subsequently, and the activities of the general practitioners, has done a great deal to restore trust in the vaccine. People are now coming forward in large numbers."