Cardiff Airport must attract airlines - chief Jon Horne
6 April 2013

From the section

Wales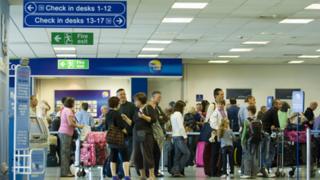 Cardiff Airport must be improved so it attracts airlines and pulls in passengers who are currently using airports in England, says its new chief executive.
Jon Horne said it would take time, but he was confident its fortunes could be turned around.
The Welsh government bought the airport last week for £52m.
It has seen a fall in passengers to just over 1m in 2012 from a peak of 2m in 2007.
Meanwhile, nearby competitor Bristol Airport saw almost 6m passengers last year, including a large number from Wales.
Mr Horne told BBC Radio Wales he was forming a plan that starts to "turn the fortunes of the airport around [and] addresses some of the issues that have arisen".
"[This is] everything from how the airport looks, how it represents a gateway to Wales, but very importantly, creating an environment that enables airlines to come back and establish competitive and successful businesses," he said.
"And through that, create the choice for Welsh travellers to use this airport as opposed to others which they're doing presently in England."
First Minister Carwyn Jones has been critical of the airport for some time, complaining of the impression of Wales it gave to passengers coming through its terminal.
He has also said it was vital for the number of passengers to be increased.
While the Welsh government will own the airport, Mr Jones said it would be managed "at arm's length" and "on a commercial basis".
Mr Horne said he was confident the airport could be a success but it would take a lot of hard work.
"It's not going to happen overnight and we have to manage people's expectations but I'm absolutely confident it's possible to turn this airport around and provide something that people in Wales can be rightly proud of," he said.
"It's going to take a long time and it's going to take a lot of effort but I wouldn't have taken the job if I didn't think it was something that couldn't be achieved."
Mr Horne was the airport's managing director between 2001 and 2007 before moving to other senior posts in the aviation industry.