Junior doctor says Welsh hospitals at 'breaking point'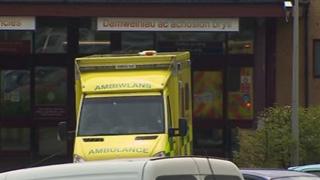 A junior doctor who chairs a British Medical Association (BMA) committee in Wales says Welsh hospital emergency units are at "breaking point".
Dr Dai Samuel says A&E departments are so busy at times that patients have had to be treated in store rooms.
He said he would not want to see the same level of care for his own family.
The Welsh government said it was "disappointed" by the comments and would be prepared to receive more information about the claims.
Dr Samuel, who chairs the BMA's junior doctors Welsh committee, told BBC Radio Wales that he thought patients were sometimes being put at risk.
"I think it was a very difficult statement to make really," he said.
"At times it is good care, it is above standard. But then at many other times it's substandard."
He said a reduction in hospital bed numbers, increasingly complex medical cases and a lack of medical staff - both doctors and nurses - was to blame.
Staffing gaps
The doctor said shifts in A&E units often only had two doctors seeing dozens of patients.
"You may be needing to get one of them into intensive care, you may have a cardiac arrest coming in, you may have three or four others who are very unwell," he explained.
"If there are only two of you, then it is very difficult to provide the best standard of care possible."
Dr Samuel's comments come a week after more than half of Wales' A&E consultants signed a letter to the health minister, warning their departments are at the point of meltdown and patients are dying as a result.
Ensuring that enough doctors were on duty was also becoming increasingly difficult, the doctor claimed.
"I've just finished work and I've already had two requests about whether I'd be able to work in other hospitals tonight as a locum to cover gaps in A&E," said Dr Samuel, who is based at the Prince Philip Hospital in Llanelli, Carmarthenshire.
"That just reflects how bad the system is at the moment.
"It is ridiculous at times, you've actually got more gaps (in the rotas) than doctors there."
The junior doctor said patients were regularly diverted from overflowing emergency units to other hospitals.
Dr Samuel said sometimes it meant patients had to be treated on trolleys, or even in store rooms.
"We certainly have had to examine patients and initially triage them in areas that are normally used as storage rooms. They are big rooms - you can fit a trolley in them, but they are not an official bay or a bed," he confirmed.
"If I was a patient or a relative of that patient, I certainly wouldn't want that for my mom or dad.
"Less beds, more patients, and not enough money. Ultimately, at the end of the day, if you haven't got the money you can't run the hospitals properly."
Listening to staff
The Welsh government has responded to Dr Samuel's comments by stating that "inadequate or unsafe care is never acceptable".
"We are disappointed to hear that these comments have been made and are prepared to receive further information about the problems described," said a government spokesperson.
"All NHS clinicians must report any concerns they have about care quality within their organisations to enable necessary improvements without delay."
The government said its own records did not show that staff are working excessive hours, and said it had also commissioned a staff survey across the Welsh NHS.
"The results will be published later in the spring and will provide first hand information on current levels of employee satisfaction and engagement across the service," added the spokesperson.