Jon Horne returns as Cardiff Airport new chief executive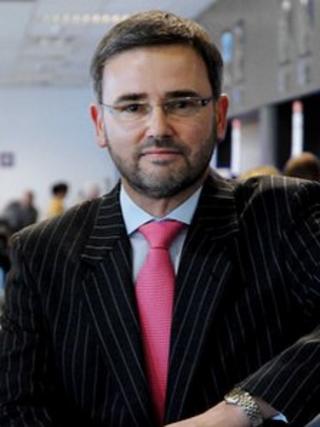 A new boss has been appointed at Cardiff Airport after it was bought for £52m last week by the Welsh government.
Jon Horne was the airport's managing director between 2001-2007 before moving to other senior posts in the aviation industry.
Transport Minister Edwina Hart said the appointment was vital in helping to increase footfall through the terminal.
Just over one million passengers used Cardiff in 2012, down about 200,000 in a year.
Mr Horne's appointment as chief executive comes a week after First Minister Carwyn Jones said the airport would be managed "at arm's length" and "on a commercial basis" rather than being operated by the government.
Mr Horne said he would do everything "to deliver an airport of which the people of Wales can once again be rightfully proud".
He told BBC Radio Wales: "I'm in no doubt as to the size of the task and the challenge represented here.
"I do see an opportunity to turn the fortunes of the airport round and that's one of the reasons why I'm delighted to have that opportunity."
'Experienced leadership'
After leaving Cardiff in 2007 he went on to hold senior positions at London City Airport and Sheffield City Airport before becoming a partner in an airport investment and enterprise business.
Ms Hart said: "The appointment of Jon Horne as chief executive, following on from last week's announcement of Lord Rowe-Beddoe as chairman of the board of Cardiff Airport, puts in place a strong and experienced leadership for the existing directors and management team at the airport.
"Both these key appointments will be vital in helping to increase footfall through the terminal, attract new services and destinations from Cardiff and improve the passenger experience and satisfaction for business and leisure travellers using Wales' national airport."
Former colleague Peter Phillips, who was head of marketing and communications under Mr Horne, gave a cautious welcome to the appointment.
He told BBC Radio Wales: "I think we've ended up with the right result for the Welsh shareholders in the airport and I think there's a sigh of relief for the airport and its supporters."
But Mr Phillips added he hoped that one of the world's best airport management companies would eventually be brought in with a financial stake.
First Minister Mr Jones has previously been critical of the airport after a slump in passenger numbers from a peak of two million in 2007.
Cardiff was hit by the withdrawal of flights by budget airline bmibaby in 2011, but has said it expects 5% - 8% growth during 2013.