Farm sheep deaths cash call rejected by Welsh minister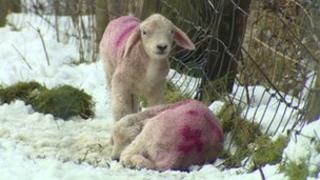 Calls for financial help for farmers who lost animals during the recent snow have been rejected by a Welsh government minister.
Natural Resources and Food Minister Alun Davies said he will not consider more financial aid to affected farmers despite calls by some for compensation.
A seven day relaxation of strict EU rules for farmers to bury dead animals rather than pay to have them removed has been put in place.
But some say it is not enough time.
The minister told BBC Radio Wales on Wednesday that farmers had recently received over £260m in payments, referring to funding via the EU's common agricultural policy (Cap).
"A number of businesses have suffered over the last few weeks because of the weather and a number of businesses are facing significant financial problems because of the weather," he said.
"It is not fair to those businesses if some businesses are compensated and not others.
"We have to be fair not only to the farm community but to taxpayers as well.
"I am not going to consider further financial aid to farmers because we have already paid out £260m in direct financial contributions to individual farm businesses in the last few months."
Farmers say it will take weeks before they can get to the dead sheep under snow drifts although the temporary lifting of the burial ban will be reviewed after seven days.
Deep drifts
Alun Edwards, a hill farmer near Llanuwchllyn, Gwynedd, said: "A derogation from burying our animals is far from enough.
"It's not realistic and it shows a naivety as far as the situation is concerned," he told BBC Radio Wales.
"There were so many huge snow drifts in various areas, 20-30ft [6-9m] drifts.
"Those drifts are not going to go away through the whole of April."
He said farmers are legally responsible for removing the carcasses, costing £15-20 an animal.
"So not only do we lose the animals but we have to pay to get rid of what's left of them."
North Wales was hit by very heavy snow for several days from 21 March with large drifts that prevented farmers in many areas reaching their sheep at the height of the lambing season.
Farms in the worst affected areas of Conwy, Denbighshire, Wrexham, Gwynedd, Flintshire and parts of Powys will be temporarily allowed to bury their sheep, lambs and calves.
However, they have to provide evidence of inaccessibility.
Tudor Jones, who farms near Bangor, Gwynedd, said: "It's a welcome start but you can't bury sheep you can't find.
"I have only found three sheep. It could be at least three weeks before the deepest drifts where the sheep are buried has thawed."
He called on Mr Davies to follow the lead of Northern Ireland and Scotland where a fund has been offered to help those who have lost livestock.
NFU Cymru official John Owen told BBC Radio Wales the union was due to meet the minister on Thursday where the issue of cash help would be raised.
"The losses some of these farmers have incurred is substantial," he said.
"The amount of sheep they have lost is going to have a considerable effect on their income over the next 12 months."
An NFU spokesman said the recent snow had the worst effect in north Wales, Shropshire, west Cumbria, and the Pennines, and left a "devastating picture".
He said there was no exact figure but there would probably be thousands of lambs and sheep lost in England and Wales.
The spokesman said the NFU was involved in ongoing discussions with Department for Environment, Food and Rural Affairs (Defra) in England, and was "hopeful" of financial help for farmers who had lost livestock.