Footprint art on pavements to tackle litter problem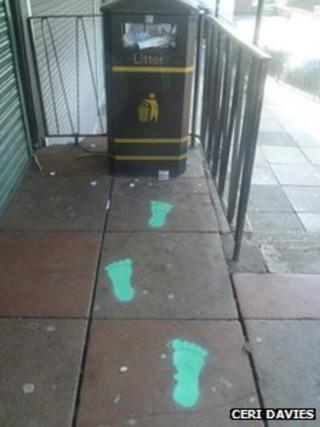 Rubbish and graffiti often go hand-in-hand but spray painting pavements could stop people littering - at least that is the theory a Cardiff student is putting to the test.
Green footprints have been painted onto pavements 'walking' towards bins in the Cardiff suburb of Cathays.
Footprints have also been painted near bins in Hay-on-Wye, Powys, and Torfaen's Pontypool and Cwmbran.
Ceri Davies, 37, hopes his research will see less rubbish on the streets.
The project is part of Mr Davies's masters in public administration, with a focus on local environment.
He took the idea after it was originally tried by students in Copenhagen, Denmark, in 2012 and it resulted in a 46% reduction in littering.
Mr Davies said it was part of what is known as "nudge theory", which is based on a belief that groups and individuals can be influenced by positive reinforcement and suggestion.
He said: "I've taken my own version of that and applied it in Wales."
In Cardiff, footprints 'walk' up to 14 bins in Cathays - an area popular with students.
The area's councillor, Chris Weaver, said there were a number of litter issues in Cathays and although the project was not yet over, he had high hopes.
"Generally, over the last few months the streets have been cleaner," he said.
"I was keen for this to be done, it's low cost and very low impact on the environment. It could be genuinely effective."
Meanwhile, Mr Davies, who comes from Hay-on-Wye, said he would be recommend the scheme is implemented permanently. The trial is expected to be completed in April.
"In Hay it has made a difference and I will be concluding that it should be something that they should look at," he added.