Richard Burton's first wife Sybil Christopher dies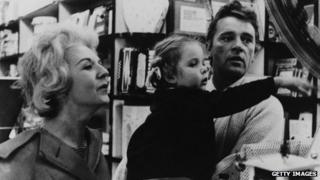 The first wife of Welsh acting great Richard Burton has died aged 83 in New York City.
Sybil Christopher, who was born Sybil Williams in Tylorstown, Rhondda, was a former actress who went on to become a theatre producer and nightclub founder.
She and Burton divorced after he began an affair with Hollywood great Elizabeth Taylor, who he went on to marry twice amid a tumultuous romance.
Ms Christopher is survived by her and Burton's two daughters.
She also has another daughter from her second marriage to American musician Jordan Christopher.
Ms Christopher, the daughter of a miner who trained at the London Academy of Music and Dramatic Art (Lamda), married Burton when she was 19 having met him on the set of her first and only film, The Last Days of Dolwyn, in 1948.
The pair acted together again in the celebrated 1954 BBC recording of Under Milk Wood by Dylan Thomas, and Ms Christopher had a number of other roles, including work in London's West End.
As Burton became more successful, she gave up her career to travel to Switzerland and then America for her husband to pursue his film career.
Remembering her decision, she told the New York Times in 1994: "It was very clear to me that I wasn't making a sacrifice.
"I knew that Richard would have an exciting career and that it would be fun, two Welsh kids on the Queen Mary, travelling first class."
She added: "In retrospect, that is what I would like to preserve, that nice warm feeling I had on the boat. I had the 23 year old (Burton), the best.
"I look at the pictures but I don't know that other guy. I had the golden boy."
Iconic club
The American dream was not to last for the couple.
After a string of reported affairs, the Burtons' marriage finally collapsed after he met Elizabeth Taylor on the set of the 1963 film Cleopatra.
The couple divorced, with Ms Christopher winning custody of their two daughters, Kate and Jessica, and a reported settlement of $1m, a huge sum in the 1960s.
After the separation, she moved to New York City where she set up the iconic club, Arthur, with Roddy McDowall and Edward Villella.
It played host to some of the world's most glamorous celebrities, including Princess Margaret, Truman Capote, Andy Warhol, Roger Daltry and The Who and Tennessee Williams from 1965 to 1969.
It was there she met the musician Jordan Christopher, who was a singer at the club.
She married him in 1964 and they had a daughter. They remained together until his death in 1996.
Ms Christopher was also the founder of the New Theatre on 54th Street in New York, where productions included The Knack, directed by Mike Nichols.
She was also one of the founders of Bay Street Theatre in New York, where she served as artistic director for nearly 22 years.
Announcing her death on 7 March on its website, Bay Street Theatre said she was the "heart and soul" of the theatre, who would be missed by all her friends and community.
"Our thoughts are with her family that she loved dearly," it added.