Smoking ban in force at Gwynedd council's playgrounds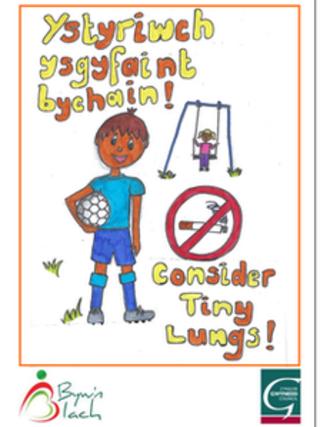 Smokers are now banned from lighting up at 130 playgrounds in Gwynedd under council plans to make them smoke-free.
Signs asking people not to smoke will be erected at the council's play areas, along with leisure centres and secondary schools, from Tuesday.
The authority is the third of Wales' 22 councils to ban smoking at its play areas, following Caerphilly and Powys.
The Welsh government previously said it would work with local authorities on introducing smoke-free playgrounds.
As part of the Gwynedd scheme, a competition was held for schoolchildren in the county to design signs which will be used in the playgrounds.
The council will also place signs at leisure centres and land at secondary schools where sports and games are held.
Caerphilly became the first local authority in Wales to introduce a smoking ban in council-controlled play areas following a campaign by young people.
It prompted anti-smoking campaign group Ash to call for all local authorities to follow suit.
However, smoking lobby group Forest has previously said it is strongly opposed to any ban on smoking outdoors, claiming it is "excessive and out of proportion".