Harrods unimpressed by women in Welsh costume on St David's Day
5 March 2013

From the section

Wales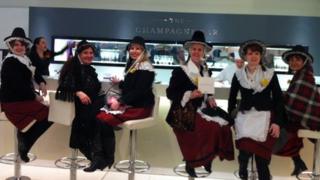 Seven women dressed in full traditional Welsh costume on St David's Day did not quite receive the warm welcome they envisaged at one of the most famous stores in the world.
Security guards at Harrods were bemused by the patriotic attire of the Bridgend friends on a hen weekend and initially denied them entry.
But they were allowed in after a dress code check revealed tall hats and shawls were not on the banned list.
Harrods apologised "for any confusion".
The women were on a visit to London for a hen weekend involving shopping and a show, and dressed in Welsh costumes because it was St David's Day - 1 March.
But they said their weekend was tarnished by their experience at Harrods.
One member of the group, Gaynor Newton, said they had been stopped by passers-by and told how good their outfits were until they ran into the Harrods door staff.
Double-checked code
"The doorman just told us 'you can't come in dressed like that' and promptly asked us to leave," she said.
Another member of the group, Denise Evans, said: "We had such a response. We were asked to pose for pictures at Paddington station. Tourists kept asking us to pose with them."
The group said they finally got into Harrods at another entrance after claiming they were being discriminated against.
A spokesperson for Harrods said the group had been asked to wait while the security guard double-checked the dress code.
"The women didn't want to wait and went to another entrance where they were admitted, as by that time the security team were aware they were wearing national dress," said the spokesperson.
"We certainly did not deny them entry and always welcome all visitors in national costume.
"We apologise for any confusion and hope they went on to have an enjoyable visit."