Backpacker John Richards sentenced over paper costume fire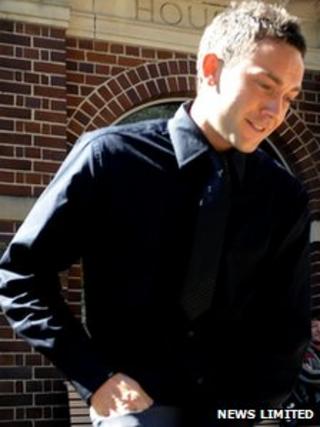 A Welshman who admitted setting a fellow backpacker on fire at a hostel in Australia has been given a suspended prison sentence.
John Richards, 27, admitted assault occasioning actual bodily harm over the incident in Sydney last year.
Frenchman Olivier Seguy, who had been wearing a costume made of toilet paper for a party, suffered serious burns.
Richards claimed in court in Manly it had been a joke that went wrong.
Local media reported that Mr Seguy was wrapped in toilet paper to look like an Egyptian mummy for a theme party at The Corso backpacker hostel in the Manly district of Sydney on 25 August last year.
But Richards lit a piece of the toilet paper using a cigarette lighter as Mr Seguy walked through the hostel's common room.
"As a result the toilet paper was immediately ignited, engulfing the victim in flames," according to a police statement of facts in court.
Richards tried to put out the flames before the victim rushed to a shower, turned on the cold water and jumped in, said reports.
Richards followed and apologised and handed himself into police the next day.
Mr Seguy was taken to hospital where he was treated for serious burns to his neck, shoulders and right forearm.
"Medical staff advise that the victim will have significant permanent scarring as a result of the injuries sustained by the flames," said the statement.
Richards was given a 12-month suspended sentence and ordered to pay $83 (£56) costs.