BBC Cymru Wales and Eos reach interim agreement in music row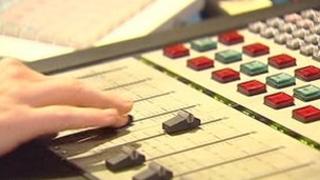 An interim agreement has been reached in the row over Welsh language musicians' royalty payments, BBC Cymru Wales has announced.
It means the Welsh language music which has been off air since 1 January will be played on Radio Cymru once again.
Both the musicians' group EOS and the BBC will now try to find a permanent solution to the dispute.
Radio Cymru reduced its airtime after losing the right to play more than 30,000 songs from the new year.
Rhodri Talfan Davies, Director of BBC Cymru Wales, said: "I am delighted that Eos has agreed to allow Radio Cymru to play its members' music once again.
Difficult circumstances
"This is an important development and one which ensures that Radio Cymru's service to listeners can once again be the best it can be.
"Welsh language music is a fundamental part of Radio Cymru and it has been a challenging six weeks without access to the repertoire."
He thanked listeners for their patience during this dispute and radio station staff who he said "have worked tirelessly to maintain the service in difficult circumstances".
"Our focus is now on reaching a permanent agreement which is fair to Welsh language musicians and the licence fee payer.
"It is reassuring that we can now continue these discussions knowing that the dispute is no longer affecting Radio Cymru's output."
Permanent solution
Sian Gwynedd, BBC Cymru Wales' Head of Welsh Language Programmes and Services, said: "We will reintroduce the music of EOS members to Radio Cymru with immediate effect.
"We will also revert to the full schedule as soon as possible and reverse the reduced hours we had to introduce as a result of this dispute as soon as practically possible next week."
BBC Trustee for Wales Elan Closs Stephens said: "I am delighted that the full repertoire of Welsh-language music will be back on the air on Radio Cymru.
"With BBC Wales and Eos agreeing to independent mediation prior to a copyright tribunal process, I hope that this will result in a long-term resolution to this dispute."
The dispute centres around the commercial value of broadcasting rights, and the BBC has been unable broadcast Welsh language music represented by Eos, the new collecting society for Welsh language composers and publishers, since 1 January.
Both EOS and the BBC will continue their efforts to find a permanent solution to the dispute.
The parties have agreed to discuss starting a process of independent mediation while continuing their preparation for a copyright tribunal process.
The BBC said it has set aside £50,000 to support EOS legal costs so that its members' arguments over the commercial value of its broadcasting rights can be properly heard.