Cardiff Film Unit launched to cope with TV demand
13 February 2013

From the section

Wales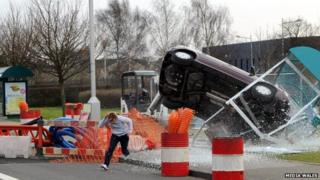 A film unit has been set up to cope with the growing demand to use Cardiff as a filming location, with the council receiving over 1,000 requests a year.
The city has become a regular backdrop for programmes including Doctor Who, Sherlock and Casualty.
Cardiff council has set up the unit, which will charge filmmakers £100 to £200 a day to film in the city.
Film expert Ieuan Morris said it was important to capitalise on Wales' growing creative industries sector.
Wales is becoming a centre of excellence for UK-produced drama with the new BBC Roath Lock Studios in Cardiff Bay home to a number of TV series.
The film unit aims to act as a "one-stop shop" to manage filming on roads in the city and in council-run buildings, along with providing support with issues such as temporary road closures.
It also plans to promote Cardiff as a television and film location to companies overseas.
The council said the fee for a filming permit is in line with other councils in the UK and that the BBC and independent companies were "instrumental" in helping to set the rates.
Filming for news broadcasts will be exempt from the charge.
Councillor Russell Goodway, the council's cabinet member for the economy, said the authority recognised the importance of attracting filming to the local economy and understood the impact it can bring to the city, such as jobs, training and tourism.
"The council also recognises that it has a duty of care to its residents and that Cardiff citizens should benefit from any filming in their area whilst disruption is kept to a minimum," he added.
'Variety of locations'
Ieuan Morris, reader in film at the University of Glamorgan's Cardiff school of Creative and Cultural Industries, said the unit was a "very positive step".
"I think capital cities around the UK all have film units now and they are good as they make it much easier for a production to deal with one agency in a city to secure permission to film in streets and buildings," said Mr Morris, who started his career as a filmmaker for Channel 4.
"Wales certainly has a growing creative industries sector. I think Cardiff and the south Wales region offers such a variety of different locations.
"You have city, mountains and sea all within about an hour's drive."
The council says it has had filming requests from the BBC, ITV and Channel 4, along with a number of independent production companies.
Producers in Ireland, Malaysia and north America have also been in touch.
It says it anticipates a rise in productions from abroad as the city "markets itself increasingly as a filming location" through the unit.
The Welsh government said the Wales Screen Commission - part of its creative industries sector team - will work alongside the new Cardiff film unit to assist productions filming throughout Wales.