Stafford Hospital: Culture change needed in Welsh NHS says lawyer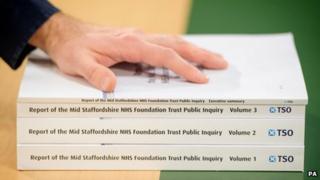 The lead lawyer for the public inquiry into neglect of hundreds of patients at Stafford Hospital has said a culture change is needed in the NHS in Wales.
Peter Watkin Jones warned it would be complacent to say the inquiry findings do not apply to Wales and called for a chief inspector for Welsh hospitals.
The inquiry found "appalling and unnecessary suffering" that led to hundreds of deaths at the hospital.
Health Minister Lesley Griffiths has already defended standards in Wales.
She is expected to give a more detailed response on Thursday.
The public inquiry at Stafford Hospital found that failings went right to the top of the health service.
It highlighted the treatment of hundreds of patients between 2005 and 2008. Five other hospitals in England are to be investigated.
'Embraced'
Inquiry lawyer Peter Watkin Jones said attitudes at all levels in the NHS have to change so that patients' interest are put first to ensure the Stafford Hospital scandal is never repeated.
He told BBC Radio Wales: "I think it is complacency to say 'You know what our system in Wales is different to England so this doesn't impact upon us.
"This is all about people, not about regulatory organisations being different.
"The people involved in the NHS are required, if this report is implemented, to change their ways.
Criminal offence
"To be open, to be accountable for what they do. to not turn the other way. That is what was frightening in Stafford is how many people were prepared to look the other way."
He said the change has to be from top to bottom and it applies to the NHS in Wales equally.
"If there's bad care in the system, people are entitled to know. And if people are keeping things under wraps and its a criminal offence, then that will apply in Wales just as much as in England.
"And therefore to say, you know what in Wales we're protected from this, we're cushioned from it, simply isn't going to be an acceptable approach if you want to change culture top to bottom."
On Wednesday, giving her initial response, Lesley Griffiths said: "I believe in Wales we have robust systems in place to ensure quality and safety are at the heart of NHS care.
"A recent survey showed 92% of people here are satisfied with that care, however, we are not complacent."
Cathy O'Sullivan, chief officer of Aneurin Bevan Community Health Council, speaking on BBC Radio Wales, rejected a suggestion of introducing a chief inspector of hospitals, saying close monitoring of the NHS in Wales was already in place.
Banding hospitals
"What's really required is is a level of independence in reviewing the NHS and working with the organisations very closely to ensure that actually all of that's information is gathered together.
"That's already happening in Wales and I don't know that an individual inspector for the NHS in Wales would make much difference to that," Ms O'Sullivan said.
However, she was also asked whether a rating system of banding hospitals in Wales, similar to schools, would help.
Ms O'Sullivan said: "The more information you can give patients the better and I would not have a problem with that.
"The whole purpose of keeping the patient in the middle, focussing on the patient is to be open and transparent and be candid about what's actually going on in health care services."
The Welsh MP given the role to review how English NHS hospitals deal with complaints says she hopes Wales will follow up some of her proposals.
Cynon Valley MP Ann Clwyd has been handed the role by David Cameron after she spoke out about the poor care her late husband received at the University Hospital of Wales, Cardiff.
Since then she has received over 1,400 complaints about hospital standards, including a number from Wales.
Their review will consider how issues raised by patients and their families are listened to and acted upon.
Although it will focus on English hospitals, Ms Clwyd said she hopes some of the proposals will be taken on by Wales.
Last year Ms Clwyd said her husband Owen Roberts died "like a battery hen" in hospital in Cardiff.
She has previously tackled the prime minister in the Commons about how he would respond to complaints about nurses who failed to show patients care and compassion.