Cyclists in Cardiff offered training to curb problems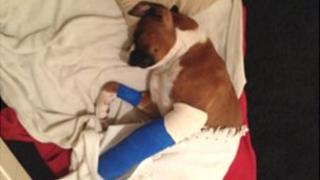 Cyclists in Cardiff are to be offered training in a bid to tackle "irresponsible" riding after complaints of dangerous speeding.
Cardiff council is to lay on adult classes at leisure centres after the Olympics inspired more cyclists.
Cycling organisation Sustrans said safer routes were also needed.
The plans were revealed after a puppy had two leg bones broken by a speeding cyclist on the Taff Trail footpath in Llandaff North.
The council said the classes will be open to all and will be run from leisure centres across the city from the spring.
It wants to tackle problems such as cyclists riding too fast, on pavements and going through red lights.
It comes after 10-month-old Buster the boxer dog was so badly injured after he was hit by an early morning cyclist that a vet thought he had been hit by a motorbike.
He had run into the path of a bike rider, who the dog's owner said was going so fast that the impact broke two bones in half in one of the animal's front legs.
Buster had to be taken to a specialist vet in Swansea for a metal plate to be fitted in his leg, at a cost of £2,600 for his owner Mark Dickenson.
He said a code of conduct, which was brought in for users of the Taff Trail in October 2011, had not made a difference to the problem of cyclists going too fast.
"I'm a cyclist myself and cycle to work in Caerphilly every day so I'm not against bikes on the Taff Trail," he said.
"But the Taff Trail is a shared path and is there for cyclists, dog walkers and walkers so cyclists shouldn't go as fast as they do.
"The vet thought Buster's injuries had been caused by a motorcyclist because they were so bad."
'Seen and heard'
The code of conduct was introduced for the busy path, which runs 55 miles (88km) between Cardiff Bay and Brecon, after years of concern and reports of accidents.
Signs along the route advise cyclists to ride at a sensible speed, while dog walkers are urged to keep their animals under control.
However, locals say they are concerned about an increase in cyclists since Bradley Wiggins won the Tour de France and a gold medal at the Olympics.
Roger Huckson, who lives in Llandaff North and walks his dog there every day, said: "It's like a Velodrome when cyclists are going to and from work.
"Ever since Bradley Wiggins won his medal, we've seen a lot more cyclists and they have swapped their mountain bikes for racing bikes."
'Minority irresponsible'
Cycling organisation Sustrans Cymru said the Olympics had "certainly" inspired many adults to use a bike again, which it hailed as a positive step.
It said more training for adults was a good idea as it would help them gain an understanding of how to handle a bike and where to position it on a road.
"But it won't solve all of the problems," said Matt Hemsley, policy officer at Sustrans Cymru.
"You have to ask why cyclists are using the pavements and shared paths like the Taff Trail - is it because they don't feel safe on the roads?
"More safe routes are needed."
Last summer South Wales Police launched a seven week crackdown on cyclists using the pavements in Cardiff.
Cardiff council said it was working with partners including the police to come up with an action plan for cycling in the city, including the cycling training.