Bangor sex assault: Attacker walks off after victim's defiance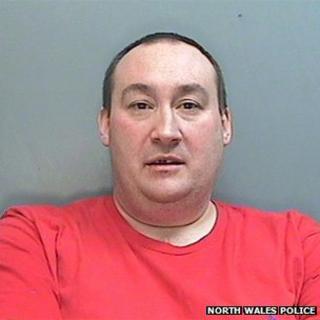 A teenager foiled a sex attacker by shouting at him that there was "absolutely no way" he was going to assault her.
Mold Crown Court heard how the 19-year-old screamed yelled: "No, this is not happening, absolutely no, no way."
David Hines, 41, who wore a balaclava during the attack in Bangor in August last year, reacted by looking at her before walking away.
Hines, a family man from Warrington, was jailed for 32 months.
After the case, police praised the "character and great strength" of the victim for coming forward and seeing it through.
The court heard how the former taxi driver had passed the teenager three times in his car as she walked home alone.
After he approached her, the teenager asked him twice if he was going to mug her but he did not reply, said Caroline Harris prosecuting.
He calmly walked towards her and grabbed her arms, before assaulting her.
She said no and pushed him away but his grip on her arms became tighter.
Screaming at him she said: "No, this is not happening, absolutely no, no way.
"You can take my money, you can take all my stuff if you want, but this is not happening."
Her attacker then calmly walked away.
The victim later told police how Hines appeared "unnervingly calm" through the whole time.
Hines was arrested at his home in Warrington, Cheshire, after his DNA was found on her clothing and his silver car matched the description of the vehicle used.
A face mask was found at his home together with clothing which matched the description given by the victim.
Cameras showed his car entering and leaving north Wales and the vehicle had been seen in Bangor.
'Extremely distressed'
Judge Merfyn Hughes QC told the former taxi driver said that his actions were premeditated.
"This was an offence committed in the early hours of the morning in darkness. She was walking home alone and you disguised yourself by wearing a balaclava," Judge Hughes said.
"There was a significant degree of premeditation which leads me to the conclusion that this was a predatory offence."
Defending barrister Simeon Evans said while it was a serious offence, the touching was brief and when the admirably resolute young lady made it clear she was not going to stand for it, Hines backed off.
In mitigation, Hines did not use serious violence and had no previous convictions.
Judge Hughes said Hines minimised the extent of the attack and the sexual element of his behaviour, and had no insight into what he had done.
He was ordered to register as a sex offender for life.
Afterwards, detectives praised the victim for her courage and resolve.
Det Con Karen Pritchard-Williams of North Wales Police said "Hines put his victim through a terrifying ordeal in what was a premeditated and cowardly act.
"His actions left his victim extremely distressed and so it is a testament to her character and great strength that she was able to come forward and see this through and I would like to publicly thank her for that.
"As a result of her resolve the communities of North Wales and Cheshire are a safer place now Hines is behind bars"