Army careers offices: Seven of 12 close in Wales
7 February 2013

From the section

Wales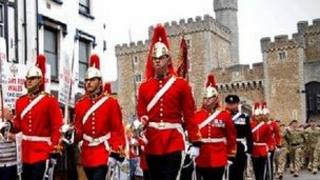 Shadow Welsh Secretary Owen Smith has criticised the closure of seven of the 12 Army careers offices in Wales.
The Pontypridd MP said it cast questions about the Army's ability to recruit from "all parts of our country and all parts of our society".
By the end of March only offices at Cardiff, Newport, Swansea, Wrexham and Bangor will be open, Mr Smith said.
The MoD said the Army is still recruiting and people are increasingly using websites and social media.
Mr Smith said the MoD has revealed in response to Labour Party questions that Army careers offices at Pontypridd, Abergavenny, Carmarthen, Haverfordwest, Rhyl, Aberystwyth and Bridgend, have either already closed or will be closed by 26 March.
Across the UK, 83 out of 156 Army careers offices will close, added the MP.
He said he was investigating the closure programme after Army sources expressed their concern at a reduced present in parts of the UK that have traditionally been successful Army recruiting grounds.
The MP said the recruiting centre in his Pontypridd constituency recently closed without notice "after being a familiar and proud feature of the town for several generations".
He said the closure programme had come about as a result of the outsourcing of Army recruitment to Capita Plc.
Mr Smith said the closure programme comes just as the Army is attempting to transform its make-up, laying off 20,000 full-time soldiers, but engaging in an unprecedented recruitment campaign for the Army reserve, which they intend to double in size, to 30,000, by 2020.
"Capita promised to save the Army hundreds of thousands of pounds in recruitment costs when they won the contract and we now know how they intend to do it - through closing recruitment centres that for decades have been valued features of British high streets," Mr Smith said.
An MoD spokesperson said: "The Army is still recruiting and people are increasingly using websites and social media to look for Regular and Territorial Army careers.
"Online applications are rising so the requirement for recruitment offices is declining, but we will maintain our mobile and high street presence so that young people can still speak to uniformed personnel."