Welsh Water 1.7% bill rise 'lowest in Wales and England'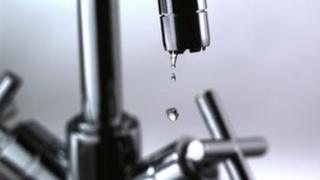 Welsh Water says the average increase in household bills from April will be the lowest in both Wales and England.
Annual charges for customers will go up by an average of 1.7%, against an average of 3.5% by other companies.
However, Welsh Water's average bill of £434 is above the average for Wales and England.
Severn Trent, which supplies many households in mid Wales, is putting bills up by 2.2%, while Dee Valley customers' bills will go up by 4.1%.
The industry's regulator says increases have been driven by inflation.
Ofwat said the average household water and sewerage bill is forecast to increase by 3.5%, or about £13.
This will mean an average bill of £388 in 2013/14.
Dwr Cymru/Welsh Water said its average bill was rising from £427 to £434, the fourth year the company has kept increases below the rate of inflation.
Finance director Chris Jones said: "We are the only regulated water and sewerage company to have reduced operating costs in the last 10 years.
"Our unique not-for-profit model means we can ensure profits stay within the company for the benefit of customers.
"The average household bill will be 6% lower in real terms by 2015 compared to 2000 - the year before the company was acquired by Glas Cymru."
The company said it was also making record levels of investment - over £300m in 2012/13 and £1bn in the three years to 2015.
'Huge pressure'
Ofwat said average water bill increases were "broadly in line with inflation".
Regina Finn, Ofwat chief executive, said: "Customers can't choose their supplier. It's our job to make sure they are protected.
"Back in 2009, companies wanted bills rises of 10% above inflation. That didn't chime with what customers told us they wanted, so we said they could only increase bills in-line with inflation.
"We understand that there is huge pressure on household incomes, and any rise is unwelcome. Inflation is driving these increases."