Construction industry 'blacklist' had 111 Welsh workers
4 February 2013

From the section

Wales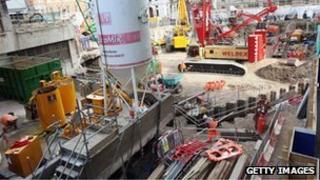 At least 111 workers from Wales were on an illegal blacklist which looked at the backgrounds of thousands of construction workers across the UK.
The identity of just 11 people in Wales was previously known, but a BBC investigation has revealed significantly more.
The majority are unaware personal data was collated and used against them.
The Information Commissioner's office uncovered the list of people with union and campaign group affiliation.
In 2009 the watchdog's investigation uncovered The Consulting Association blacklist, which contained information on 3,212 people.
Some of the UK's largest construction companies subscribed to the list.
For just £2.20 they could search and vet potential employees.
The blacklist detailed trade union links and described individuals as "trouble makers", "politically motivated" and even recorded whether they had raised health and safety concerns.
Ren Davies, a former bricklayer and shop steward from Colwyn Bay in Conwy, was told his personal information matched that found on the handwritten database.
Mr Davies said he struggled to find employment over the years and told BBC Wales' The Wales Report programme the list was used to deny him work and had ruined the lives of many.
He said: "It was extremely difficult, there's many Christmases when I couldn't provide what other people could provide for their families and when I think about that I become very bitter.
"This has affected many people's lives dramatically, some people have taken their lives because of that, because they saw no hope for themselves."
The Consulting Association, which was run by Ian Kerr, was fined the maximum penalty of £5,000 and shut down by the Information Commissioner's Office for failing to notify as a data controller.
Trade unions and human rights groups say the practice of blacklisting is still ongoing.
Corinna Ferguson, legal officer for the human rights group Liberty, said: "These are people who have raised very serious health and safety concerns, that is in the interest of all the workers on a building site and it's certainly not proper grounds to exclude somebody from employment.
"There haven't been the penalties in the past to deter companies from doing this so I wouldn't be at all surprised if they think they can get away with it."
'No evidence'
But the UK Contractors Group (UKCG), which represents some firms involved, said the allegations are historic and there was no evidence that blacklisting is still on going.
It said in a statement: "Members of UKCG take health and safety very seriously and would certainly not discriminate against any employee for raising safety concerns, indeed, our approach is the exact opposite and to encourage proactive worker engagement.
"That is one reason why the industry's health and safety performance has improved significantly over the past decade."
Business Secretary Vince Cable will meet with the Information Commissioner and said no action would be taken without fresh evidence.
He said: "If it is actually going on, it is a serious matter and it does need investigation and I of course will want to see it properly investigated, but we want some evidence."
The Labour AM Vaughan Gething said he was "deeply sceptical" there was an isolated instance.
He said: "If we could change and effect the way procurement works in Wales I believe it could make a big difference to the industry across the whole Britain.
"This was a huge crime against thousands and thousands of workers wholly without justification."
The Wales Report on BBC 1 Wales on 3 February is available on the BBC iPlayer.