Swansea ball boy Charlie Morgan off duty at Wales-Austria game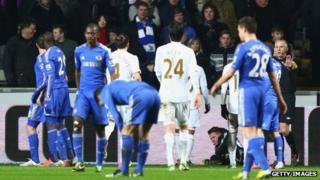 A ball boy involved in an incident that led to Chelsea's Eden Hazard being sent off during a match at Swansea's Liberty Stadium will not be on duty for the next match at the ground.
Charlie Morgan, 17, seemed to be kicked by Hazard while lying on the ball in Swansea's Capital One Cup semi-final.
Wales play Austria at the stadium on Wednesday, 6 February.
But the Football Association of Wales (FAW) said the ball boys will come from under-15 and under-16 teams.
The FAW issued its statement as attention continued to focus on last Wednesday's incident, which to some degree overshadowed Swansea's success in reaching their first major cup final by beating European champions Chelsea on aggregate over two legs.
It read: "Union Rangers football club have the honour of being the ball boys at the Wales v Austria Vauxhall friendly international at the Liberty Stadium in Swansea on 6 February, 2013.
"The ball boys will be selected from their under-15 and under-16 teams.
"Therefore Charlie Morgan, who has been subject to a great deal of press and media interest since the Swansea v Chelsea League Cup semi-final, will not be eligible for ball boy duties, however, he will be welcome at the game."
The ballboy, who is the son of club director Martin Morgan, fell on the ball after it went out of play late in the game as Chelsea chased the two goals they needed to send the tie into extra time.
Hazard appeared to lose his patience and tried to kick it from under him, but instead he appeared to make contact with the youngster.
Hazard was dismissed, and later charged by the Football Association with violent conduct. The Belgium international later apologised.
Within 24 hours, Charlie gained tens of thousands of extra followers on Twitter. Before the game, a tweet on his account read: "The king of all ball boys is back making his final appearance #needed #for #timewasting."