Aamir Siddiqi: 'Kind-hearted and pure', says lifelong friend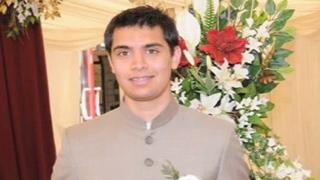 A lifelong friend of murdered Cardiff teenager Aamir Siddiqi has spoken of the "kind-hearted" and "pure" A-level student who was murdered in cold blood when hitmen went to the wrong house.
Ben Hope, 38 and Jason Richards, 39, have been convicted of stabbing Aamir to death at his home in Roath, Cardiff in April 2010.
Aamir, a promising A-level student who hoped to study law, was the victim of mistaken identity.
The target lived in the next street.
Saaed Kidwai had known Aamir for as long as he could remember.
"My early memories are from Year 3, Year 4, running around, and we're quite good family friends so I've known him since then," he said.
"We went to high school together for two or three years, extra-curricular stuff and we had a lot of mutual friends so we grew up together and had a really strong friendship, I think.
"[His murder] was just devastation and complete shock because he's the least harmful person you could ever meet. He was kind-hearted and so pure."
Mr Kidwai was one of a number of Aamir's friends who organised a football match in honour of the sport-mad teenager in the period after his death.
He explained: "Two days before he died we were playing a football match, just a few friends.
"It was just a few months before our A-levels and we were in the midst of our revision and it was a really sunny day so we decided to play football, and upon his way home he literally wrote his last Facebook status which was, 'Thanks guys for an awesome day'.
"We thought, what better way to remember his name than to play football? It was also to get our mind off it because it was a really difficult time."
He described Aamir as someone with "great aspirations and great ambition" who had a fantastic memory.
"We used to call him the human encyclopaedia because he knew everything about anything," Mr Kidwai said.
"He read the Financial Times and some of our friends would be investment bankers and don't even read it themselves.
"He was destined to do great things but it's up to us now to keep his memory."
Family friend Sher Ali, president of the Cardiff branch of the UK Islamic Mission, had known Aamir since he was a boy.
"He was getting on in his education and his Islamic education. He was very good boy, he never had trouble with anyone and he respected everyone."
Aamir's head teacher at his school, the private Cardiff Academy for GCSE and A-level students, remembers a lovely pupil who was very academically gifted.
Principal Stephen Wilson said: "He was really loved by all the students because he was a very gentle boy. One of the nicest boys I'd say I taught in many a year.
"He was an asset to the college in many ways. He was very interested in football and cricket particularly and is sadly missed by all of us here.
"I'm sure he would have made an excellent lawyer. He was all set up really to go off to university, probably to Cardiff. He certainly was predicted the grades to get in."
The impact of Aamir's death was devastating for staff and students alike.
"It was really quite traumatising for a very small college like we are," Dr Wilson said.
"Because he really was the life and soul of this college he left an enormous hole in the place. It was very difficult for many of them to cope.
"We were in the middle of examinations as well so all in all it was an extremely difficult time. I think they coped with it extremely well with it under the circumstances."
The college carried a tribute page to Aamir on its website in the wake of his death, which remains to this day.
Dr Wilson said of photographs used for the site: "He's obviously very happy, not just here but in his life."