Welsh students still behind on top degrees awarded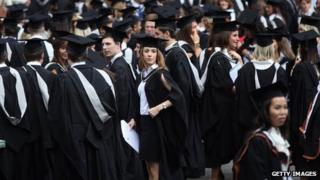 Wales is still lagging behind UK counterparts when it comes to awarding the highest class of degrees.
The Higher Education Statistics Agency (Hesa), said 61% of Welsh students received first class or upper second class degrees in 2011-2012.
In England the figure is 66% and it is 72% in Scotland.
But the body representing Welsh universities said Welsh graduates still have the best employment rate - with 91% finding a job within six months.
The figures published by Hesa on Thursday do mark an improvement in the number of higher class degrees awarded in Wales - up a percentage point on 2010-2011.
However, Amanda Wilkinson, the director of Higher Education Wales (Hew), said the statistics only gave part of the picture.
"I think we need to be clear about what the statistics tell us. They tell us that Wales is performing less well in terms of the numbers of first and two-one for full-time students," she said.
"But it is rather better for part-time students, where there is a higher percentage than England of students achieving first and two-ones."
'More in work'
The Hew director said that the part-time student sector in Wales is "a very important market" for higher education.
She also pointed out that regardless of the class of degree awarded, Welsh graduates had a better chance of finding work than anywhere else in the UK.
"What the statistics show is that the employability rates of graduates from Welsh universities six months after graduation are stronger than anywhere else," said Ms Wilkinson.
"91% are in work six months after graduation. Welsh institutions can get students into work."