Winston Roddick insists police commissioner job is full time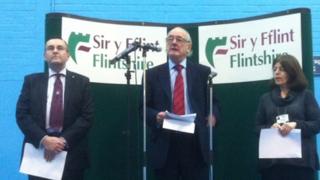 The police and crime commissioner (PCC) for north Wales says he regards the role as a full-time job despite retaining his role as a barrister.
Winston Roddick QC, a former senior legal adviser to the Welsh assembly, was elected last month.
Mr Roddick has also revealed that he has cut the salary of his chief executive to save money.
He was speaking at the first meeting of the North Wales Police and Crime Panel in Conwy.
The panel was set up to scrutinise the work of the commissioner and is made up of councillors and lay members from the six counties of north Wales.
PCCs are responsible for setting priorities for their police force, overseeing its budget and hiring the chief constable.
Mr Roddick was elected on 15 November after standing as an independent candidate.
But he was later criticised amid concern that he was still available for work as a barrister, a job he has held since 1968.
Mr Roddick remains on the website of 9 Park Place chambers in Cardiff as a practising barrister, but the site says he is "not available to take instructions in criminal matters for the duration of his appointment as Police Commissioner for North Wales".
He told the meeting of the North Wales Police and Crime Panel: "I'll give this job what it takes. It's very busy at the moment."
He joked: "When I met my family recently it had been so long since I'd seen them they decided to do an identity parade.
"If the role ever did become a part time one, I'd take a reduced salary, but that's unlikely to happen at the moment."
He said he had decided to reduce the salary he intends to pay his chief executive, who will be appointed in the next few days, and would not be appointing a deputy commissioner at the moment to save money.
Public purse
Mr Roddick added: "The Act of Parliament which set up the system of police commissioners requires me to have a chief executive and a financial officer.
"I have advertised for those posts, and will be interviewing this week.
"But I'm anxious to give a signal that I have my eye on the purse, so I've reduced the chief executive's salary from £90,000 to around £75,000 per annum.
"I hope I have pitched the salary at what's reasonable and defensible.
"Other police commissioners in England have appointed deputies. But I won't be appointing a deputy at this stage."
Mr Roddick said he needed to calculate the amount of money people would be paying towards the police in their council tax bills and present it to the panel for approval by 1 February.