Extra £10m for flooding defences after summer deluge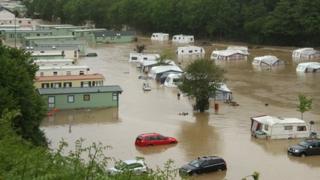 An extra £10m is to be spent on flood defences following the devastating rains which caused widespread flooding in mid Wales last summer.
Environment Minister John Griffiths told the assembly members the Welsh government was determined to "learn lessons" from the event in June.
Homes and holiday parks were badly hit in Ceredigion and Gwynedd, with the village of Pennal evacuated when a reservoir threatened to overflow.
The money will be spent in 2013-2015.
Over 100mm of rain - more than the average amount for the whole month of June - fell in 24 hours in some areas, leaving 127 homes and 248 caravans under water.
'Manage the risks'
In a statement to the Senedd, Mr Griffiths said a number of post-incident reports had been produced, including one by the Environment Agency which made 11 recommendations aimed at ensuring better flood awareness at local level.
There was also a need to make use of technical developments to improve flood warning systems.
He said: "We can never stop or fully prevent flooding but we can manage the risks and reduce the consequences.
"We were already investing over £140m in flood and coastal erosion risk management over the life of this assembly to reduce risk for over 7,000 properties."
He said despite severe reductions in its capital budget, the Welsh government was spending an extra £10m on flood and coastal risk management over 2013/14 to 2014/15, taking investment to more than£150m.
"This money will pay for eight additional schemes in vulnerable communities," said Mr Griffiths.
"It is tangible evidence of our ongoing commitment to invest in order to protect Welsh homes and businesses."
Finance minister Jane Hutt added: "The additional £10m for flood and coastal risk management will make a real difference, by delivering longer term benefits for the economy and, vitally, protecting Welsh homes."
'Extremely nervous'
Steve South runs the Riverside Caravan Park in Llandre, near Aberystwyth, which saw caravans and cars submerged when the heavy rains hit in June.
Emergency services had to evacuate park residents although no-one was harmed.
Four months later Mr South says the repair work is "75% complete" but he has still to receive any help from government or other agencies.
He said of the summer season: "We managed to hold our own to some degree. There's obviously been issues with people afraid to return to the park or to book and come because of a risk of a repeat."
Mr South said some people who have already returned were nervous when it rained heavily.
"They are watching the river to see if it's coming up at all," he added.
"There are some people who are afraid to return. Perhaps people or families with disabilities thought it was too much of a risk for them to get away from the park should it reoccur?"
Mr South said the government should look at working with insurers to help businesses like his.
"One of the big issues we're going to be facing next year is re-insurance," he said.
"The insurers want caravans sited four foot in the air otherwise they won't insure us.
"It's very costly. For us as a small business, it's going to be difficult for us to fulfil every part of the criteria that they want."