April Jones: More time to quiz murder suspect Mark Bridger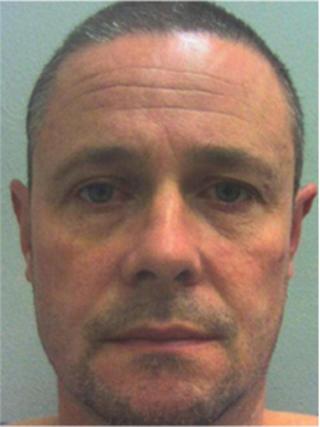 Police have been given a further 24 hours to question a man arrested on suspicion of murdering five-year-old April Jones.
Mark Bridger, 46, was arrested the day after April went missing from near her home in Machynlleth, mid Wales, on Monday evening.
Speaking on Friday afternoon, Dyfed-Powys Police said the focus remained on finding April.
But they confirmed that searches would now only take place in daylight hours.
Earlier on Friday, police confirmed Mr Bridger was being questioned on suspicion of murder.
Hundreds of specialist searchers are due to resume combing the area for April on Saturday morning.
Supt Ian John said there were eight police teams of more than 60 specialist search trained officers involved.
"All of the blue light services are involved in the search, including the fire service, ambulance, coastguard, RNLI as well as the RAF mountain rescue service and some 150 members of the Mountain Rescue service from across the UK," he said.
"There are rescue dogs and a host of specialist equipment being used including boats with sonar equipment and the helicopter with thermal imaging capability."
He told BBC Wales: "Quite simply over the last few days our efforts have been completely focused on the hope that we'd find April alive.
"That meant steps to search throughout the whole 24 hour period.
"Now we need to focus our efforts on the daytime searches, maximise the opportunities of the team being fresh to search throughout the day so they can get some rest at night and that will continue tomorrow morning, first light.
"What you can see on the ground here is a search operation but back at Aberystwyth police station, it's a hive of activity with the investigation team.
"They will work throughout the night as they have been over the last few days."
Supt John thanked members of the local community and further afield for providing food and drink to the searchers.
He added: "All the pink ribbons and the balloons around the town show the impact of this tragic incident on everyone.
"Our focus remains on finding April and the search continues."
Meanwhile, it has emerged the suspect had attended Ysgol Gynradd Machynlleth at the same school parents' evening as April's parents hours before she went missing.
Earlier on Friday, Det Supt Bevan had told reporters that Mr Bridger had been arrested on suspicion of murder.
Mr Bridger had initially been arrested on Tuesday in connection with April's disappearance.
"He remains in custody in Aberystwyth and continues to be questioned. The arrest does not detract from our efforts to find her," said Det Supt Bevan.
"Her family has been informed of this development and they continue to be supported by our specialist trained officers."
He renewed his appeal for information about Mr Bridger's movements and that of his vehicle.
"We are looking to trace the movements of Mark Bridger between 6.30pm on Monday and 3.30pm on Tuesday, and any sightings of him between these times," he said.
Forensic examination
"We also need information regarding the movements of the blue Land Rover Discovery, registration L503 MEP, between these times."
Forensic examination is taking place on the vehicle.
Following Friday's court hearing, police now have until 16:50 BST on Saturday to question Mr Bridger before he must be released or charged.
Earlier, volunteer searchers were thanked for their efforts but police said "it is no longer appropriate" for untrained members of the public to continue in the hunt.
Searches of a farmhouse in the nearby village of Ceinws, where the arrested man was known to be living most recently have been conducted.
Meanwhile, a public fund has been set up due to the number of people from around the UK wanting to show their support, according to the town council.
The council said it had decided to create April's Fund after receiving calls from across the UK from people eager to donate money for April and her family.
Parts of the town have been covered in pink ribbons since April's mother made a plea for people to wear her daughter's favourite colour and to show support for the search.
A special area has been created in the foyer of April's school, Ysgol Gynradd Machynlleth, after a request from April's mother, with pupils creating small individual heart-shaped messages.
Head teacher Gwenfair Glyn said child psychologists had been working with pupils.
Meanwhile, another vigil was held at St Peter's Church on Friday evening.
Dyfed-Powys Police have asked anyone with information to contact a dedicated hotline on 0300 2000 333.