Jobless Welsh homes: Globalisation 'adds to problem'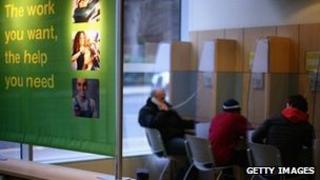 Wales has a long-term problem with its number of jobless households, it has been claimed, as figures show the total is increasing.
David Blackaby, a Swansea University economics professor, said globalisation meant it was hard to compete in manufacturing and low-skilled jobs.
From April-June 21.6% of homes were workless, up nearly 2% on 2011.
Office of National Statistics (ONS) figures show 216,000 households with no-one in employment.
The ONS figures showed the figure is just under 22% of those in Wales.
That is significantly higher than the UK average, which fell by 0.8% last year. The percentage of households in Wales where all adults work also fell to 50.3%.
Prof Blackaby told Good Morning Wales: "In Wales, we have a long-term problem with what we call inactivity.
"These are people who are not in work - unemployed or long-term sick or people looking after dependents - so it is a concern.
"Before the recent recession we did see worklessness fall in the UK and in Wales.
"So we've seen as we move into a recession, the sort of people who are most likely to be in work are those who are highly qualified.
"In a recession, we do see an increase in worklessness households. We have seen a big increase this year, but last year we did see a big fall."
Prof Blackaby said with globalisation and increasing competition, it was more difficult to compete in manufacturing industry and low-skilled jobs.
'Assortative mating'
He added: "What we know is in the labour market, we have something called assortative mating and that means like people tend to marry like people, so well-qualified men tend to marry well-qualified women.
"In a slump it tends to be those less qualified who lose their jobs and they tend to be concentrated in similar households."
A Welsh government spokesman said the figures can be "volatile" over the short term.
Prof Blackaby agreed but said the problem was a long-term one.
"The figures can jump around a little bit from year to year," he said.
"But if we've got a more poorly qualified workforce than the rest of the country, we're likely to have high levels of economic activity.
"I suppose one of the concerns with that is we find that child poverty is particularly high in worklessness households."