Man jailed for cannabis factory behind gnome business
21 August 2012

From the section

Wales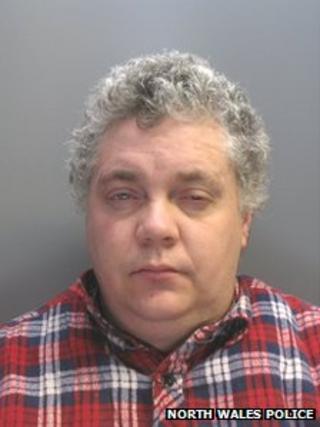 A man who turned to growing cannabis at his garden gnome business after it started to struggle has been jailed for two years.
Jason Lee, 42, aroused suspicion after a £70,000 electricity bill went to his landlords, Flintshire council, instead.
Lee, of Rhyl, Denbighshire, admitted producing cannabis worth nearly £100,000, at Mold Crown Court.
The judge, Mr Recorder John Jenkins QC, accepted Lee regretted his actions but said his operation was "sophisticated".
The court heard council officials were already suspicious about Lee's garden ornaments business due to the locks, security lighting and CCTV he had installed.
Police searched the premises at Drury Industrial Estate at Buckley after his landlord, the local authority, received the five-figure electricity bill.
They found 84 cannabis plants in a growing area with artificial lights, reflective walls, feed and separate ventilation.
The room was uncovered after they moved a filing cabinet and found a door hidden behind it.
David Mainstone, prosecuting, said the female flowering heads officers found would have made skunk cannabis with a value of £98,500.
Books on growing cannabis were found in Lee's office.
A second, empty, growing area was found 216 young cannabis plants were found in propagators on its roof.
Mr Mainstone said the defendant was also processing cannabis leaf, which was not included in the valuation of his operation.
The court heard Lee turned to growing the drug commercially after his garden ornaments business fell on hard times.
Mr Recorder John Jenkins QC told the defendant that those who produced and dealt in drugs for profit could expect no leniency.
"This was designed to make a lot of money by the sale of skunk on the streets," he said.
That produced more crime as others sought to obtain money to pay dealers, he said.
The judge said he took into account that Lee may have been pressured by others and said a longer sentence would have been imposed but for his guilty plea and the fact that he had dependents.
Jonathan Duffy, defending, said his client bitterly regretted his "catastrophic" decision to turn to drug growing.
A previous conviction for growing cannabis was for the small amount he grew for his late wife for medicinal purposes. She had since died of cancer.
The judge said Lee's case was too serious for his to be given a suspended sentence, even exceptionally.
Lee broke down and cried as he was jailed for two years after he admitted producing cannabis with intent to supply.
After the case, North Wales Police investigating officer PC Anthony Butlin said: "This sends out a clear message to those who are involved in the production of cannabis that North Wales Police and the courts will take a strong stance and offenders will have plenty of time to contemplate their actions from behind bars."