Paralympics: Coaches in Wales behind disabled sport elite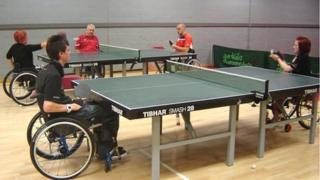 As the Paralympics get under way, Wales expectations for a medal haul are high as the contributes a record number of 38 athletes to Paralympics GB.
In Beijing, Wales made up 16% of Team GB and was responsible for 25% of its gold medal haul.
As an even larger number is fielded for London 2012, we have been finding out exactly what is behind Welsh Paralympic success.
Earlier in the week, we examined the role of grassroots organisations and funding available for disability sports. Today we look a the role of coaching in keeping the nation at the forefront of elite performance.
One coach with a track record of more than 40 years in Paralympic sport is wheelchair table tennis expert Jim Munkley.
He has seen huge developments in disability sport since he started as a competitor.
After a diving accident in 1966 which left him in a wheelchair as a young man, table tennis formed part of his rehabilitation.
He first took part in the national championships at the Stoke Mandeville hospital in Buckinghamshire, which pioneered wheelchair sport.
Mr Munkley said of that time: "The reason why I got involved [in coaching] was I always relate it back to people who have helped me.
"There were two lads there from Wales who helped me. I was so scared and probably would have quit if it wasn't for them."
He competed in the British Commonwealth Paraplegic Games in Edinburgh in 1970 and Christchurch, New Zealand, in 1974, and in 1984 he was selected for the Paralympics in table tennis, archery and field sports.
However it was the experience of the 1998 Seoul Paralympics which crystallised his desire to help others' aspirations.
"I came out into that opening ceremony. There were 80,000 people there [in the stadium] and I felt I wanted people to have what I had had."
Mr Munkley has been chair of the Welsh Paraplegic Tetraplegic Sports Association for 30 years and is Disability Sports Wales' (DSW) performance academy table tennis specialist.
He said things had changed beyond all recognition since he first got involved in sport.
"When I went to Stoke Mandeville in 1969, there were no lifts on and off the bus and there was a Nissan hut with 60 beds in it, no lockers, four toilets, two baths and eight wash basins.
"The whole week everyone had a party. You did take it seriously, but not like now.
"The structure of everything has changed so much. DSW has put Welsh athletes up there with everyone else, and better than most.
"These days we have to be sport specific. There is no comparison with how it was."
The drive for elite Paralympic sport has gained greater momentum after the award of the London 2012 Games.
DSW set up its performance academy in response in 2006.
Academy manager Gerwyn Owen put its aim succinctly: "Identify talented athletes and provide them with opportunities to get themselves into Team GB."
Once the athletes are admitted to the academy, they receive individual support in order to develop their abilities, which may include joining a squad and gaining access to specialised coaches.
Professor Laura McAllister, chair of Sport Wales and a UK Sport board member, points to the work of Disability Sport Wales performance academy coaches such as Anthony Hughes for maximising the medal and performance potential of athletes.
"What they're very good at is seeing children who may have not found their sport yet and saying, why don't you try this one?" Prof McAllister said.
She said it was more common for Paralympians to compete in more than one category of race or sport.
Prof McAllister credited Mr Hughes with the ability to channel an athlete's talents into the optimum number of sports, in turn increasing the medal-winning opportunities for Wales.
"[Anthony's] got a real eye - for example, [F57 javelin world record holder] Nathan Stephens was discovered by him."