North Wales Police Federation public order policing concern
11 August 2012

From the section

Wales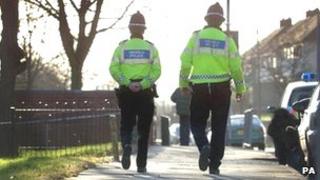 Police forces may have trouble dealing with public order incidents in future due to budget cuts, it is claimed.
The North Wales Police Federation chairman said cuts left little room for anything else after daily policing.
Insp Brian Robinson said the region's force had lost about 40 officers, equivalent to two units it sent to help in last year's London riots.
The Home Office said any claim forces have insufficient resources is "completely without foundation".
North Wales Police confirmed that between July 2011-12 the number of officers in the force had reduced by 39 to 1,488.
A report last month found Welsh forces plan to shed more than 600 police jobs by March 2015, 162 fewer in north Wales alone which is trying to make £16m in budget savings.
Insp Robinson, who led one unit sent to London last August, said: "The police are an emergency service and that whilst we are able to cope with day to day policing, the ability to deal with major incidents will be affected by the cuts already implemented.
'Boots on the ground'
"There will come a time when we will have to concede that we just can't do it all.
"We cannot provide the same service with fewer and fewer officers and support staff."
More than 3,000 people were arrested in connection with last year's unrest, which saw streets in parts of the country awash with looting, arson and violence.
In July, UK ministers said the "vast majority" of police forces were "rising to the challenge of reducing budgets while protecting services" after a report by HM Inspectorate of Constabulary (HMIC) raised concerns about cuts.
A Home Office spokesperson said HMIC has been clear that forces are making savings while the frontline of policing is being protected.
"The issue during last summer's riots was not about total police numbers but around the speed of deployment of officers to trouble spots.
"Any claim that forces don't have sufficient resources to deal with disorder is completely without foundation."
Insp Robinson said North Wales Police had "done everything to minimise the impact on frontline policing but that would be impossible if there are further cuts to police budgets".
"As an experienced public order commander I know that disorder is an ever present risk," he said.
"The time that you need numbers, resources and boots on the ground is when public order threatens.
"We want the government to slow down, take a fresh look at policing and re-consider police budgets."