Rise in shoppers in Newport despite store closures
8 August 2012

From the section

Wales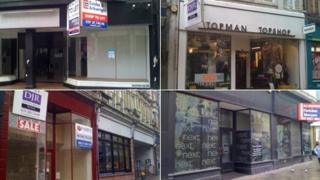 The number of people passing through Newport city centre has risen "significantly," council figures show.
Nearly 200,000 more people were in the centre this year compared to last, taking the total to nearly nine million - 1.5 million more than predicted.
It comes despite fears that shoppers would leave the city because some high street names have closed stores.
Experts say the rise could be due to new homes, offices and a university campus being built in the area.
According to the council's service plan indicators and targets, footfall for Newport city centre stood at 8,939,472 in the year 2011/2012.
That is a rise of 192,638 on the year 2010/2011 and 1,504,633 more than the council predicted for 2011/2012.
It follows figures from the National High Street Index which show a 7.6% rise in the number of people in Newport City Centre this June compared to last.
According to this study Cardiff saw a 1.6% drop - and Swansea a 4.5% drop.
James Urquhart, the co-owner of Total Toys, has moved from a stall in the city's indoor market to a bigger shop on the high street because of the rise in footfall.
"We're seeing a bit of an increase because we're seeing more shops re-opening," he said.
"One of the people down town, called Missy, he shut for a while but now he's back. Obviously for him to come back there must be an increase - he was talking about going to Cwmbran, but he's come back to Newport as well".
'City landscape changing'
It is difficult to pinpoint any one reason for the rise in footfall, but some experts believe it may, in part, be down to new housing in the centre, professional services relocating to the city and the new University of Wales Newport campus on the banks of the River Usk.
Dr Jonathan Deacon, a reader in Marketing and Entrepreneurship at the University of Wales Newport says the city landscape is changing.
He said: "We have to rethink and redesign what our city centres are all about - and the city centre of Newport has taken a brave step in saying that maybe it's not just about retail, that it's not just about office space - it's about this kind of mixed activity, so dwelling spaces as well as commercial spaces".
The rise in footfall comes after fears that Newport was losing shoppers to other shopping centres in nearby Cardiff and Bristol, along with Cwmbran, where there is an out-of-town retail park.
Big high street names, including Marks and Spencer, Next, Burton and Topshop, all shut stores in the city centre last year.
But in March it was announced that plans to revamp Newport's shopping centre with the Friars Walk development for John Frost Square had been approved.
Work is likely to start on the £100m development next year to create a new shopping centre and a department store, along with a six-screen cinema, eight restaurants and cafe.
A car park with 360 spaces is included in the plan.