Cardigan Bay's first newborn dolphin calves recorded in 2012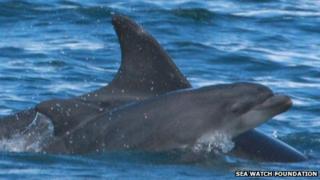 The summer's first newborn bottlenose dolphins calves have been officially recorded in Cardigan Bay.
Three were seen off the pier in New Quay and during survey work in a conservation area near Aberporth by researchers at Sea Watch Foundation.
They say dolphins use Cardigan Bay for safe calving and breeding before moving around Anglesey and the Isle of Man in the winter to feed in open waters.
One mother is known as Haf and was first recorded in Cardigan Bay in 2001.
She was recognised as part of the conservation charity's photograph identification project.
"We were absolutely delighted to come across them," said monitoring officer Daphna Feingold.
The first sighting in Ceredigion was from a land watch off New Quay pier followed by two on board a survey vessel between Ynys Lochtyn and Aberporth.
Five years
Ms Feingold said Haf was seen in Cardigan Bay every year between 2001 and 2007 but she "suddenly disappeared" before being sighted again last year.
"So to see her again this year, and this time accompanied by a calf which may only have been days old, was a real treat," she said.
Newborn calves show stripped marks - called foetal folds - which indicate the way they were held in the womb and they disappear over time.
Researchers say 60% of calves in Cardigan Bay are born from April through to September, with most births - over 90% - in July and August.
Ms Feingold said fewer surveys had been carried out in July than usual due to the bad weather so researchers may have missed the first of the calves.
"We were also aware that 2010 had seen a particularly high number of calves born - we recorded 14 - and since there is often three to five years between a bottlenose dolphin having another calf, we were not expecting to see too many," said Ms Feingold.