Geraint Thomas win: Post box painted gold after medal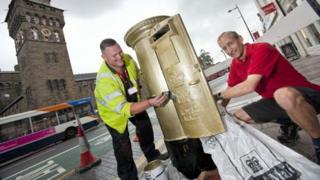 A post box has been painted gold in Cardiff to celebrate Welsh cyclist Geraint Thomas winning first place with teammates in the men's pursuit.
The GB cycling team's medal success is also being celebrated with a special stamp.
Thomas, 26, was the first Welsh athlete to win Olympic gold at London 2012.
It was followed by rower Tom James' gold in Saturday's men's coxless four. His home town of Wrexham will also get a new-look post box to celebrate.
Royal Mail said a batch of special stamps was being printed to go on sale on Saturday morning to mark the cycling team's success.
They broke the world record in beating Australia on Friday night, retaining the title they won in Beijing.
The stamps will be on sale in over 500 post office branches across the UK from around lunchtime on Saturday, including Thomas's home city of Cardiff, Clancy's home town Huddersfield and Colne in Lancashire for Burke. Kennaugh is from the Isle of Man.
Thomas is the first Welsh athlete to win gold medals in back-to-back Olympics since equestrian rider Richard Meade in 1968 and 1972.
And that was followed a day later by James, 28, who defended his own Olympic crown on Saturday.
Royal Mail has pledged to issue a stamp for each Team GB gold during the Games. The stamps cost the normal first class price of 60p.
It will also paint a post box gold in each of the home towns of gold medal winners, including Cardiff city centre, Huddersfield and Colne.
The Isle of Man post office, which is independent of the Royal Mail network, will be making its own arrangements to paint a post box gold for Kennaugh.
Social media was overwhelmed with messages of congratulations to the team from cycling fans, politicians and fellow sportsmen and women.
They led from start to finish and broke their own world record in a dominant display over the 4000m distance.