Bradley Wiggins: Cycling coach Dave Brailsford profile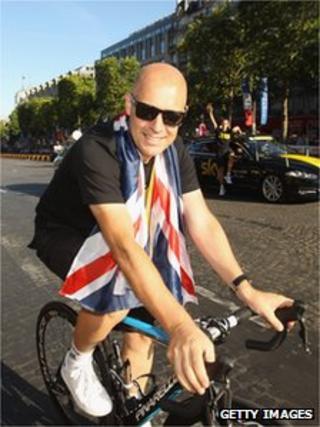 The man who masterminded Team Sky and Bradley Wiggins' Tour de France victory may have been born in Derby.
But if you were to ask Dave Brailsford, he could tell you - in fluent Welsh - that he is very much a son of Deiniolen, near Caernarfon in Gwynedd.
The 48-year-old moved to north Wales as a small child, where he honed his cycling skills on Elidir Fawr and Holyhead Mountain.
The head of Team Sky and British Cycling's performance director could have been forgiven had he taken a night off to savour the historic Tour de France win.
But on Monday Brailsford was back at work, coming home to Wales with his Olympic cap on.
As he called into the Newport Velodrome to check that his London 2012 track cycling charges in Team GB are on course to at least match the success of his 2004 and 2008 teams, he said: "I'm already thinking about the Games and while this (Tour de France) is fantastic, I can't let go, I can't stop or relax."
"I am sure at an inopportune moment I will get blind drunk. All the emotion will come out, I'll have a good old cry, feel bad about it the next day and crack on.
"That's the normal pattern for me."
Alpine mountain guide
Brailsford inherited his love of cycling from his Alpine mountain guide father.
After leaving Ysgol Brynrefail - where he was a schoolmate of former Wales footballer Malcolm Allen - he moved to France to join his father as a professional cyclist.
But after five years he realised he could not live up to his own high standards, and returned to study sports science at Sheffield University, taking the first steps on the path which would lead to his phenomenal coaching success.
He studied for an MBA at Sheffield Business School before going on to work as a special adviser for British Cycling.
He first became involved with the GB Olympic team after the sport received lottery funding following the Sydney Games.
Rising to performance director, his teams backed up a strong 2004 Olympics, by taking 14 medals in Beijing, including a record eight golds.
'Good target'
After the Tour victory, Brailsford insisted he was in no mood for free-wheeling.
"We've done a lot of work on just how do you become the best sports team in the world? And if you're going to become the best cycling team the world's ever seen, you've got to win the biggest race in the world time and time again. I am quite driven by that.
"I've thought perhaps of winning all three Grand Tours in a season - that would be a good target. I'm not saying we will, but why not?"
Brailsford said the team also needed to improve in cycling's other major road races.
That sort of brutal honesty and ruthlessness is typical of the man, according to Barry Hoban, the former Tour de France cyclist who lives in Mochdre, Newtown in Powys.
He said Brailsford comes across "as a man who will just not accept failure".
Hoban said: "In my day on the tour, what little British success we had came in spite of the system rather than because of it. In fact, there wasn't any sort of system to speak of."
"What Dave's done is to do all the fiddly behind-the-scenes work of putting the scouts and the coaches and sports psychologists in place, so now there really is no excuse for failure."