Cynog Dafis wants Plaid and Labour to "sit down" over NHS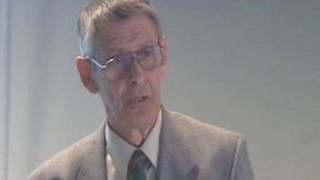 An ex-Plaid Cymru MP and assembly member says the party could position itself as a coalition partner, if Labour is willing to work with it.
Cynog Dafis told BBC Wales that Plaid should focus less on distant issues like independence.
It follows a row earlier this week over party tactics about a no confidence vote in the Labour health minister.
Mr Dafis said Plaid should "sit down" with Labour and agree a way forward for the Welsh NHS which is facing reforms.
The former Ceredigion MP and Mid and West Wales AM was speaking on BBC Radio Wales' Good Morning Wales programme in the wake of former Plaid leader Lord Elis-Thomas missing a vote of no confidence in health minister Lesley Griffiths in the assembly.
Mr Dafis called on Plaid to work towards a "governmental role, rather than a constant oppositional role".
Dwyfor Meirionnydd AM Lord Elis-Thomas was presiding over a Bangor University graduation ceremony on Wednesday while other Plaid AMs joined the Liberal Democrats and the Conservatives for the vote prompted by controversy over the independence of a report into the future of the NHS .
But he also criticised his party for acting like the Tories' "lapdogs" in supporting the vote in the Senedd, which was defeated.
'Big challenges'
Lord Elis-Thomas said he had seen no evidence that a no confidence vote was warranted, adding: "Plaid has put itself in a position of being the supporting cast to a play which was produced by the Welsh Conservatives, and that gets under my skin."
He had the party whip withdrawn on Wednesday night but party leader Leanne Wood announced on Friday afternoon no further disciplinary action would be taken.
Mr Dafis told BBC Radio Wales he would like to see Plaid "rise above opportunist games."
"What I would like to see actually is Elin Jones, who's the Plaid health spokesperson, sit down with Lesley Griffiths and work on this to agree a way forward for the National Health Service.
"And if that means Plaid Cymru being drawn more into a governmental role, rather than a constant oppositional role, then that would please me as well."
Labour has 30 of the assembly's 60 seats.
Pressed on whether this meant as a coalition partner, Mr Dafis added: "Well, if Labour are prepared to accept that, that would be my view. I mean, Plaid Cymru now faces four more years in opposition.
"How to use that period raises significant challenges.
"What I certainly believe is that Plaid Cymru must present itself as a party of government for Wales, not a party that is interested in some kind of distant independence position, that kind of thing, but a party that gets involved in building the nation now, actually dealing with the big challenges that Wales faces at this time."
A Plaid Cymru spokesperson said in response: "It is certainly the case that, unlike this current administration, when Plaid Cymru was a party of government there was a clear will to protect core local health services and Plaid Cymru ministers sought, at all times, to be fully accountable for their decisions".