Jessie J withdraws from Pontypridd and Alnwick concerts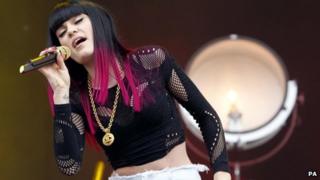 Pop star Jessie J has pulled out of the opening night of a music event in south Wales after being hit by a virus.
She was due to perform at 'Ponty's Big Weekend' at Ynysangharad Park, Pontypridd on Friday evening.
Organisers said she was suffering from the CMV virus "which has caused her considerable fatigue".
The opening night has been cancelled, and the singer's show at Alnwick Castle, Northumberland on Saturday has been postponed until 25 August.
The Ponty Big Weekend said its shows on Saturday, with Olly Murs headlining, and Sunday, with Alfie Boe, will continue.
Blood tests had revealed the virus after Jessie J had visited her doctor on Friday morning.
Those with tickets for the Jessie J concert will be refunded. Gates had been due to open at 16:00 BST.
Jessie J said via Twitter: "I want to personally apologise to all my fans who would be going to my show tonight (Pontys Big.W)
"I have been diagnosed with a viral infection recently that has caused me to be extremely fatigued.
"I was hoping to be better but I have been to see my doctor this morning after not feeling great who has advised me I am still in need of rest&to perform will make me worse.
"I hope you can all understand that I wish I could be there.But I'm just not well enough.Back to bed I go :( So sorry x"
Event organisers Rhondda Cynon Taf said it was "with regret" that the decision had been made to cancel Friday evening's concert.
Christian Hanagan, head of strategy, public relations and tourism, said: "We wish Jessie well in her treatment and hope she is back on her feet soon."
"We are sorry for the inconvenience this decision causes, and to Jessie's fans who were looking forward to the event, but I'm sure they will understand that this is the only decision that could be taken under the circumstances.
"It's also a great disappointment to us, as we were really looking forward to the concert."
The council has advised anyone at the concert or on the way to it, "to make their way home in an orderly fashion, or to approach a steward or member of the security staff on site to make plans to leave the site, particularly those under 16".